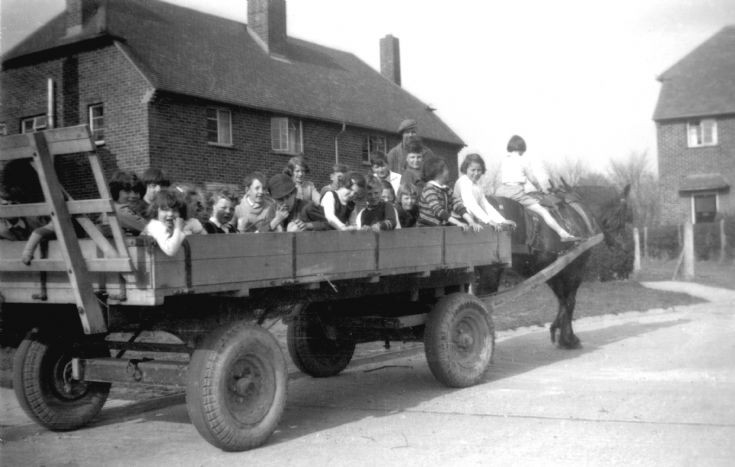 The Slaugham Archive
Horse and wagon in Truggers, Handcross
Wally Rye lived with his family at 21, Truggers and worked on the High Beeches estate. The residents of Truggers were keen gardeners and Wally would supply cartloads of manure to his neighbours, in particular to Nelson Cook who lived at number 24 just off picture to the right.
At that time the families of the three houses in the photograph were, from the left, those of Wally Rye, Alan Pattenden, and Sid Sargent (see
picture #1454
). For a list of the families resident in Truggers in 1955 see
picture #1455
.
Once the manure had been unloaded the children would clamber aboard the wagon complerely disregarding its previous cargo. Life in Truggers was paradise, if a little smelly!
In this photograph Wally Rye can be seen at the back. Otherwise I can only recognise Paul Pierce in the pale coloured jumper fairly near the back, Rosemary O'Shea under the middle window, and Andrew Cook in front of Wally.
The Large Version shows a close up of the children.
View Large Version
Picture added on 10 January 2017 at 14:08
This picture is in the following groups
People