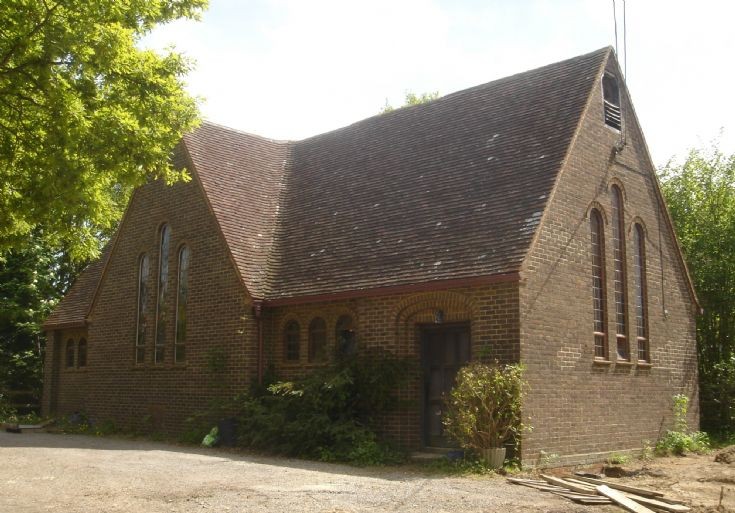 The Slaugham Archive
St Andrew's church in Warninglid
I would guess that this photograph of St Andrew's church in Warninglid was taken some time between the ending of church services and its conversion into a private residence.
Built in 1935, the church was closed for worship some years ago and converted into a four-bedroomed private residence in about 2010.
Further photographs and information can be found at
picture #259
and
picture #260
.
On the death of Lady Seaforth, daughter of Mr and Mrs Steinkopff (see
picture #1060
), the Lydhurst Estate was sold along with the Mission Room, and Warninglid lost its only place of worship.
To overcome this, Major John Lister of Warninglid Grange offered a central site for a new church on the main road, and also gave land for four new flats to the south.
In addition to donating the land, Major Lister and his sister promised to finance the building work to provide the village with a place of worship. He laid the foundation stone on 28th July 1935 and the church was dedicated by the Bishop of Chichester on St Andrew's Day, 30th November 1935.
Major Lister gave lilac trees for the Remembrance Garden, and his sister, Mrs Mercer, presented 13 other trees in commemoration of the 13 names on the Warninglid war memorial.
The pulpit, reading desk and organ were given by Mr Ian Millar in memory of his mother. The architect was Mr Gordon Troup.
The pews, alms dish, and safe were given by Mr Selkirk, The altar cross was given by Mrs Rolls Hoare. The chalice and paten given by Miss Hope Lister, stained glass east windows and altar candlesticks (1805) were given by Mrs Mercer, and the stained glass south transept window in memory of Gertrude Lister was given by her husband and children.
The bell and sanctuary vases were given by Mr and Mrs Philip Inman, the font was given by Mr and Mrs Bonner-Maurice, and the fair linen altar cloth was given by Mrs Messel.
The building of St Andrew's church was featured in "The Architect and Building News" magazine in September 1936. Select Large Version to view the one-page article.
In 2014, the residents of the Warninglid were being canvassed for their opinions as to what to do with the redundant church bell. Select Open Document to view details of the situation as it was in October 2014. Please can anyone let us know if a new use was found for the bell?
View Large Version
Open Document
Picture added on 24 January 2017 at 14:27