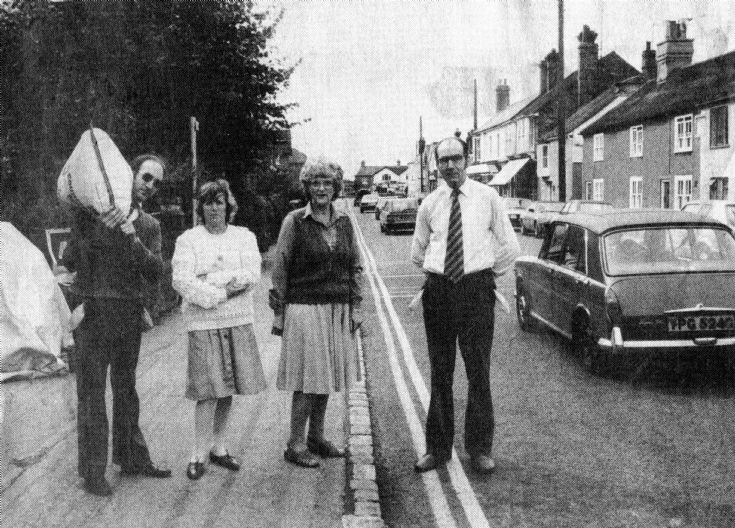 The Slaugham Archive
Battle of the Yellow Lines in Handcross (1 of 6)
Sometime in the early 1980s it is alleged that the wife of a county councillor was driving with a horse trailer through the High Street in Handcross and found herself delayed by congestion caused, she thought, by cars parked on the side of the road. The complaint was passed through official channels and it came to pass that the Highways Department of West Sussex County Council decided to paint double yellow lines on the eastern side of the High Street. Thus the "Battle of the Yellow Lines" began.
The local shops were soon complaining that their takings were down, residents had to park their cars on the other side of the street, the traffic increased their speed dramatically often exceeding the speed limit, and pedestrians found it hard to cross the road at busy times.
I have located a cache of several newspaper cuttings in the archives but the one above has kindly been supplied by Beverley Ansell. From the left those pictured are Noel Matthews from the hardware shop, Jan Gammon from the fruit and veg shop, Joan Greenfield from the Post Office stores, and Gerald Beechey from the sweet shop.
Watch the story unfold over the next few days, but not to ruin the suspense I shall not tell you the outcome in advance!
The Large Version shows the text relating to the above picture.
Select Open Document to view a cutting reporting on the thoughts of the local MP, Mr Nicholas Soames.
View Large Version
Open Document
Picture added on 10 February 2017 at 21:52