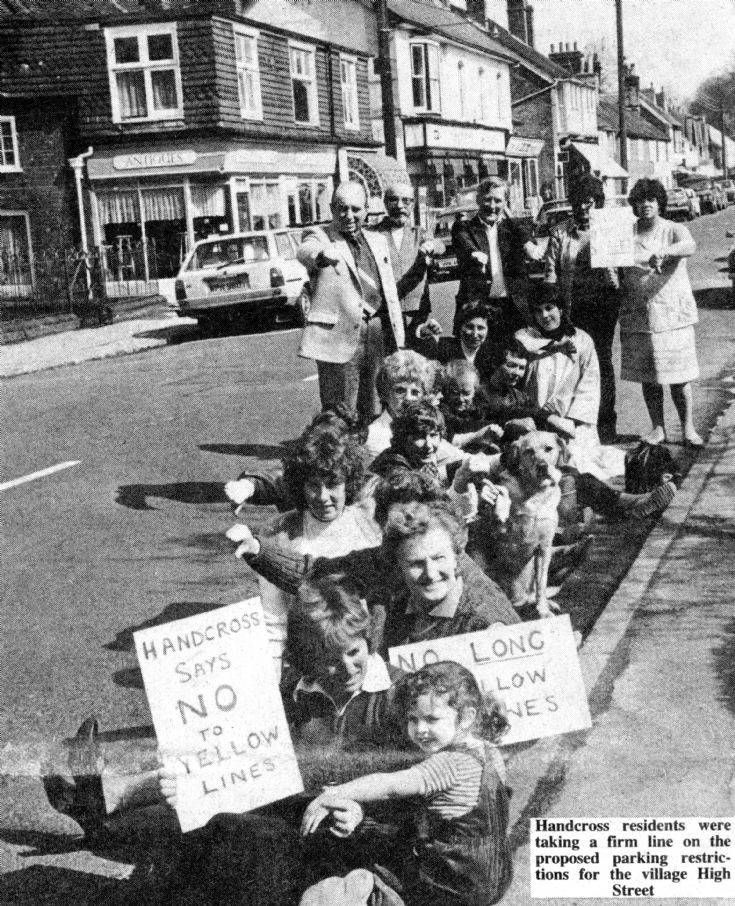 The Slaugham Archive
Battle of the Yellow Lines in Handcross (3 of 6)
Following a public meeting in the Parish Hall, it was decided to increase the campaign against the parking restrictions due to come into force on the east side of the High Street in Handcross within the next few months. Here are two press cuttings relating to the proposal that residents and shopkeepers should lay down on the roadside to prevent the yellow lines being installed. At the time of this demonstration the lines had yet to be painted.
Among the protesters, I can spot, standing at the back, Roger Ray, Dick Evans, Fred Morgan, and Ruth Payne. In front of Fred is Shirley Bailey, with blond-haired Joan Greenfield in front of her. With her Labrador, Jezebel, is Sam Butler. Wearing a pale-coloured top is Janet Manthorpe with Betty Sargent in front of her, followed by Nora Ray.
Nearest the camera is Jan Gammon.
The Large Version shows to accompanying text to the above picture.
Select Open Document to view a similar cutting from another local newspaper, and a final cutting relating to the involvement of the Ombudsman for local government.
View Large Version
Open Document
Picture added on 12 February 2017 at 15:57
Comments: