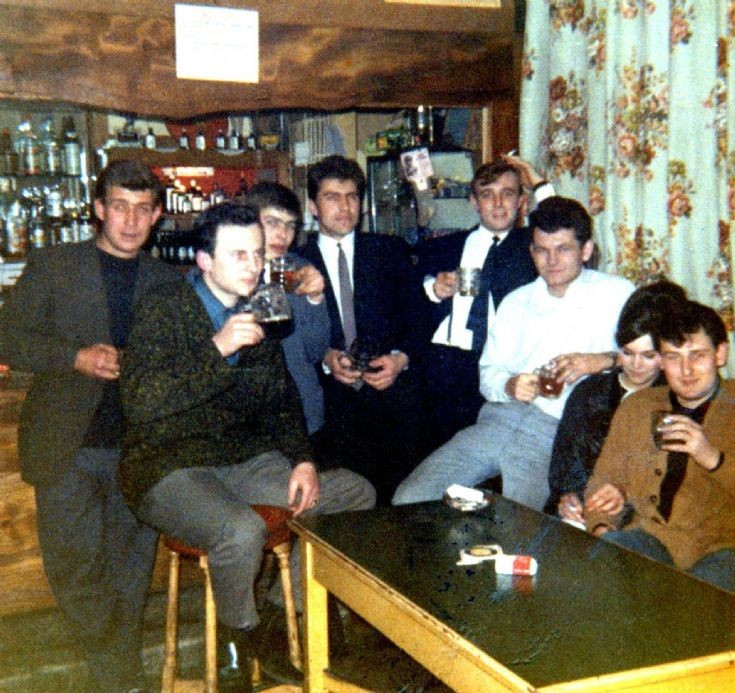 The Slaugham Archive
Handcross football club 1966
In about 1966 a photographer captured Handcross football team on a training session in the Handcross Social Club!
From the left they are Don Robinson (Faygate), Chris Johnson, Norman Haines (Pease Pottage)(1945-1993), Norman Leppard, David Knape (1943=2003), Barry Ray, Miss Jackie Gibbons, soon to marry Ron Verlander.
The Large Version shows a close up.
Around this time there was a major upset in the life of the village football club which was run under the auspices of the Handcross Social Club. Each year the football club held its AGM to discuss certain matters and elect its officers.
On this occasion the local lads were surprised to find that there were many members from the Crawley area in attendance. As usual, Bill McConnell took the chair and it was soon clear that there was a premeditated plan by the members from the Crawley area to outvote the players from Handcross on the election of captain, vice captain, etc. I can particularly recall that a proposal was made to leave the Mid-Sussex Football League, in which the club had played for over 70 years, and join the Crawley League. The motion was carried by just one vote, with one Handcross player, whom I shall not name, voting for the Crawley League! If the voting had been tied, I am sure the chairman would have voted for Mid-Sussex.
Select Open Document to read three newspaper cuttings on the "velvet glove" takeover.
View Large Version
Open Document
Picture added on 22 February 2017 at 12:06
This picture is in the following groups
Football
Comments: