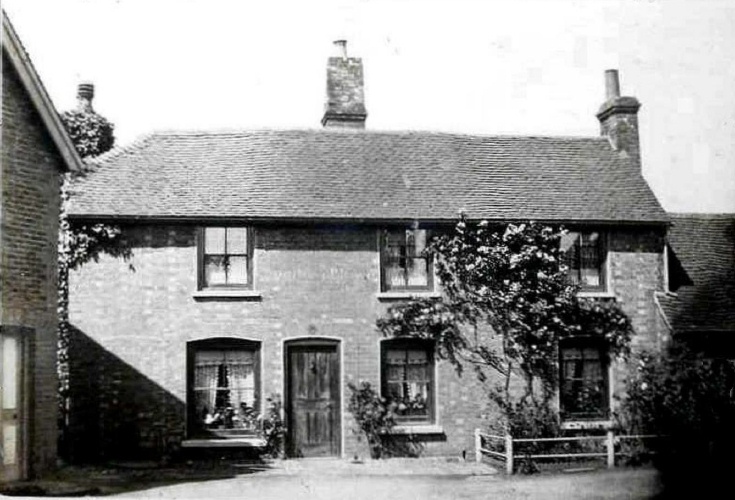 The Slaugham Archive
The old garage in Handcross (3 of 4)
The date of the photograph of Forge Cottage in the High Street, Handcross is not known but no doubt it has changed little over the last 100 years.
The cottage is located at the rear of the old garage in Handcross High Street previously run by Mr Archie Quick.
Mrs Ena Tulley made mention in her memoirs of this location which, before Mr Quick, had been in the ownership of the Ireland family since early in the 19th century.
In November 1925 Alfred Ernest Quick bought the business at the old garage for his son, Archie, who joined the two blacksmiths/wheelwrights already working there. It seems that Mr Quick also purchased two cottages dated 1816 at the same location which in 1925 were let to Mrs Lee and Mrs Comber at 4/6 and 5/- a week respectively, with the landlord paying the rates.
Whilst repairing these cottages in 1944, Mr Quick took down a wide shelf in the scullery of the farther cottage, and underneath was written:-
"Sacred to the Memory of Moses Wells who died, April 1st, 1833, aged 35 years."
I can find little information on Mr Wells, except that he married his wife, Hannah, at Slaugham church on 20th May 1818.
At the end of these two cottages, facing Tulley's Stores was written:- "HOODSPITH - TAILOR AND DRAPER", but Mrs Tulley observed that "it grows fainter with time, and is now difficult to see."
The 1851 Census shows "master tailor and cutter" 39-year-old John Hoodspith from Northumberland living in the Handcross High Street, with his wife, Martha, and their three children, Robert, Avis and William. In 1849 they had a son who died at the age of three months, and in 1852 a daughter, Caroline.
View Large Version
Open Document
Picture added on 27 March 2017 at 14:26
Comments: