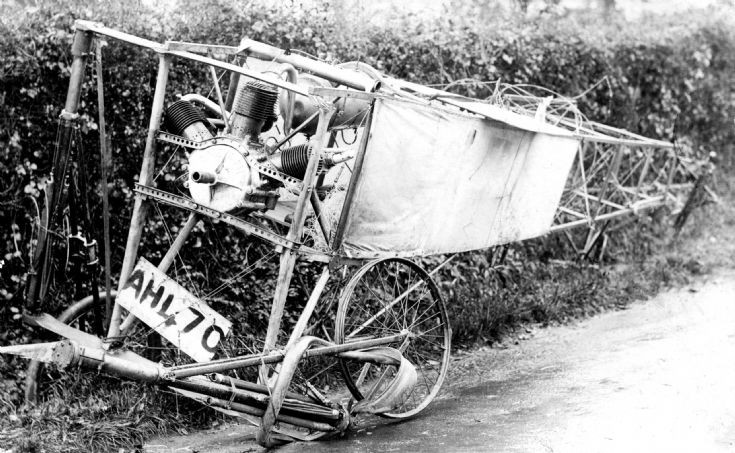 The Slaugham Archive
The first plane to fly the English Channel
To huge acclaim in 1909, Louis Blèriot was the first person to fly the English Channel. Before setting out on his flight he had been warned that the crafty English may impound the plane to steal any secrets of aircraft design. He was to ensure the plane was repatriated to France forthwith.
The British Minister of Transport at the time was Mrs Avril May, a second cousin by marriage to the present Prime Miniter, who insisted that if Louis wanted to fly the plane back to France he would have to wait until England had an airport.
He was told that there would have to be numerous public enquiries, but the likely location for the first runway would be either just outside the small hamlet of Heathrow or on the racecourse at Gatwick. This, she said, could take several decades, or even longer!
Louis was distraught, particularly as his wife, Harriot, told him that the nasty French press was alleging that he had claimed vast expenses for pretending that she worked for him as an assistant!
In a stroke of genius, Louis decided to remove the wings and drive the plane on the road to the ferry port. However, not to be outdone, Mrs May said that the plane must be roadworthy and have its own registration plate and third-party insurance.
Louis had no choice but to comply, and so it came to pass that he set off from London powered by the three-cylinder Anzani engine with "atmospheric" intake valves and cam-operated exhaust valves.
Unfortunately, the brakes were somewhat less than efficient and by the time he had passed through Handcross High Street he reached the top of Handcross Hill at about 70 mph. In what was mistakenly interpreted by the spectators as an act of murderous vengeance to Mrs May the Frenchman was heard to shout as he roared pass the startled villagers "Poisson d'Avril".
On his descent of Handcross Hill he hit a pothole and the plane flipped over onto its nose and the propeller disintegrated. Fortunately Louis was thrown clear and survived.
The photograph is of the wrecked plane at the bottom of the hill on the "wrong" side of the road. See the Large Version.
View Large Version
Picture added on 01 April 2017 at 08:07
This picture is in the following groups
People
Comments: