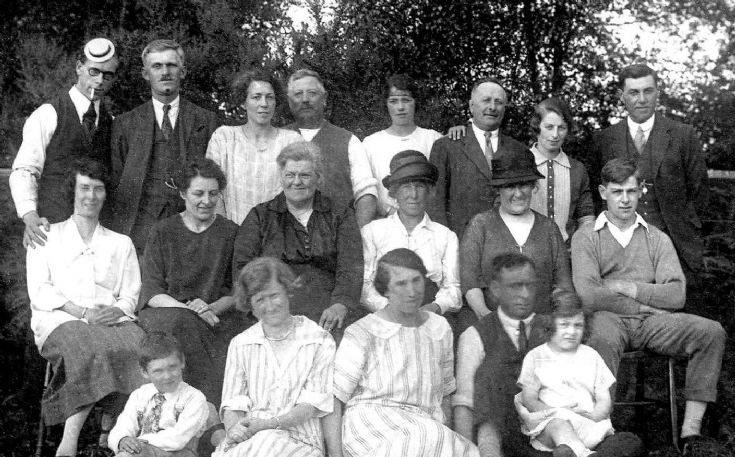 The Slaugham Archive
George Tester and Ancient Order of Foresters
Standing in the back row in this family photograph taken at High Beeches, Handcross is my grandfather, George Tester (1866-1945). The family event is described as a tea party, but the fellow on the left appears to have found something stronger!
Some are identified as follows:
Back row from left: - 3 Mabel Tester (née Knight), 4 Godfrey Tester (husband of Mabel), 6 George Tester (my grandfather), 7 Winifred Gander (née Tester), 8 Ron Gander.
Centre row from left: - 2 Mabel Field (née Tester), 3 Julia Backshall, 6 William "Pat" Tester (my father).
Front row from left:- 4 Harry Field, 5 Betty Field.
The Large Version shows a close up.
George worked as an agricultural worker and shepherd on Shelley Plain, and then moved on to be farm bailiff at Handcross Park, and then High Beeches.
He was a prominent member of the Ancient Order of Foresters (A.O.F.), which fraternal organisation often met at the Black Swan.
Select Open Document to view his A.O.F. regalia which includes a green sash with a star emblem, many of which are on display in
picture #101
at one of their public meetings at Handcross. There is also a large rosette with seven silver tassels of unknown use.
Most interesting, though, is a multi-coloured strip, predominantly red, which has PCR inscribed on it. This stands for Past Chief Ranger, clearly indicating that recently he had been given the job of top man in the organisation. There is also a spiraled scroll inscribed with the A.O.F motto of "Unity, Benevolence & Concord".
Also appearing on the document is a photograph of grandfather looking very suave and confident.
View Large Version
Open Document
Picture added on 12 April 2017 at 09:44
This picture is in the following groups
People