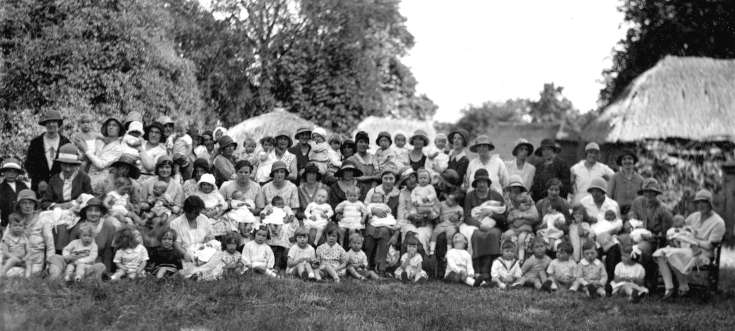 The Slaugham Archive
Multitude of mothers and children in Handcross
This gathering of mothers and their children took place some 20 years before the celebrated baby boomers of post-Seconf World War, but it was certainly impressive nevertheless.
I counted 37 mothers and 46 children, but I became disheartened after trying 6 or 7 times with different answers!
There are no details with the photograph except that sitting, second from the left, is Maud Arnold, wife of Percy Arnold. It does not say if Maud is sitting on the grass or on a chair but I have assumed she was on the former. Percy Arnold (1902-1978) and Maud (1900-1998) had three children, only one of which was a son, Kieth Arnold, who was born in about August 1931. Thus, I have guessed the year at 1929, which seems to fit in with the fashions on display.
According to the 1933 Electoral Roll, Percy and Maud were living in Brighton Road, Handcross, but the 1980 one was more specific and showed Maud living in 1, Myrtle Cottage.
It seems unlikely, but can anyone add more names? Or the location?
The Large Version shows a close up.
View Large Version
Picture added on 07 May 2017 at 21:35