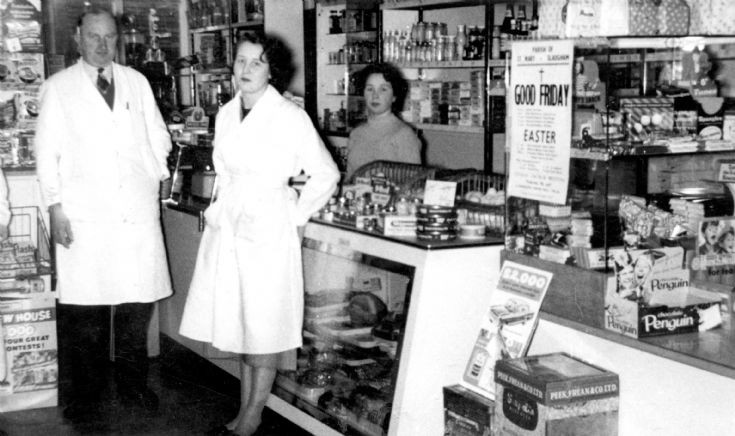 The Slaugham Archive
Wards Stores in the High Street, Handcross
A shop everyone of a certain age will remember is Wards Stores located between Hibbs and Sons and the newsagents in Handcross High Street.
Its manager was Sid Sargent from Truggers pictured here with two of the assistants. Behind the counter is Sally Townsend, but I have no positive identification of the assistant in white.
Sometime after this photograph was taken, Sally married Reg Briggs from Truggers and for many years they have lived in New Zealand.
I am grateful to Penny Smith (née Sargent) who lives in Queensland, Australia and writes as follows:
"Sally's father was gamekeeper at Brantridge Park along Balcombe Road; her mother was the cook there when the Park was owned by the Earl and Countess of Athlone, and subsequent owners. Sally grew up with their children when they were in residence.
Wards Stores was owned by H G Kingham and Co of Dorking but traded under the name of Wards Stores in Handcross. Kinghams had several shops around Crawley, Haywards Heath, Epsom, etc which is how my parents met. My Mum, Betty, was a bookkeeper at one of the Surrey stores and was sent down to Handcross to be the bookkeeper there before the war. As her parents lived in Banstead, Surrey, she lodged with Mr and Mrs Keylock in the house opposite the shop which belonged to Kinghams. When Dad became shop manager we could have moved in there but Mum said she wasn't giving up her council house as there was no knowing how long Dad would be at the shop. (
picture #1454
)
Our granddaughter, Sophie, is in the Royal Australian Navy and her ship was in port for ANZAC day which is our equivalent of Rememberance Sunday but with more bells and whistles than you could imagine. As Sophie was marching in the city parade we went in to see her. It was a very proud moment, and I wore Dad and Mum's medals too."
The Large Version shows a close up.
Select Open Document to see four bills from the shop, variously using the names of Wards Stores and Kinghams.
View Large Version
Open Document
Picture added on 08 May 2017 at 21:16
Comments: