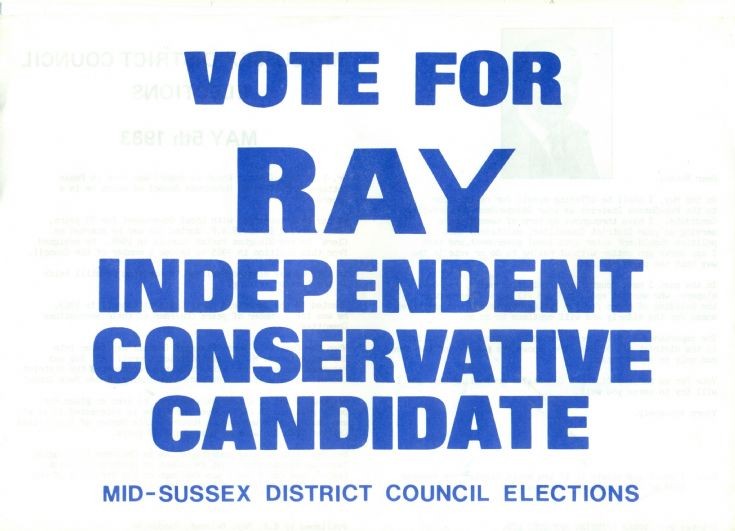 The Slaugham Archive
Mid-Sussex District Council Elections 1983
At the time of writing there appears to be some sort of General Election going on in the country. Important though it may be, there was a crucial contest in the Mid-Sussex District Council election in 1983.
My father, Roger Ray, always believed that party politics should play no part in local government and thus he had always stood as an independent candidate representing the Slaugham Parish for, firstly, Cuckfield Rural District Council and, secondly, for its replacement, the Mid-Sussex District Council.
However, the local Conservative organisation thought otherwise and decided to contest each seat with an official candidate. My father was asked if he would stand in that capacity, but he remained faithful to his principles. He realised that he faced a tough battle against the Tory machine with their army of door-knockers if he wanted to remain a district councillor. He decided to call himself an Independent Conservative and produced this leaflet.
On the morning following the election he attended the count in the Council chambers in Haywards Heath. The official Tory candidate and several activists were lurking in a huddle nearby. When it was announced that my father was the victor by a sizeable margin he turned round to find that the others had made a hasty exit without offering any form of congratulatory message! He represented the Slaugham parish as a district councillor from 1965 to 1989.
The Large Version shows the reverse of the leaflet.
Select Open Document to view a newspaper cutting announcing the results. It was a clean sweep for the Tory machine, except, of course, for the Slaugham Parish!
View Large Version
Open Document
Picture added on 07 June 2017 at 19:45
This picture is in the following groups
People