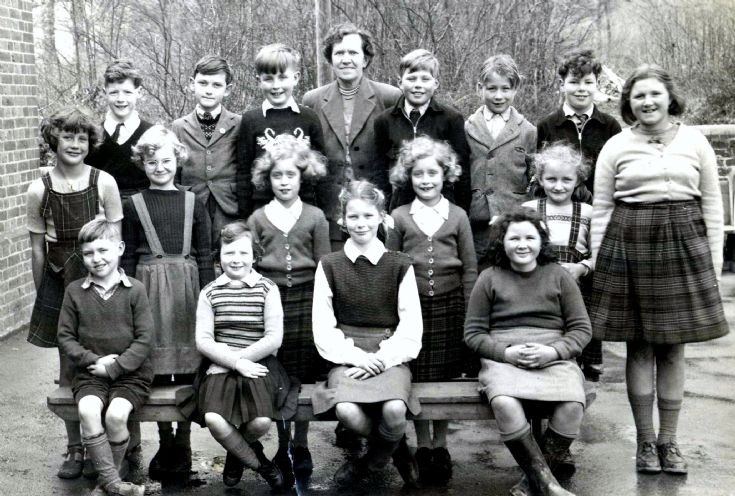 The Slaugham Archive
Warninglid School 1954
Further to
picture #2019
here is a photograph taken in the following year. Another wet day with wellies on parade!
From left to right, back row: Rodney Orford, Ian Stenning, Tony Le Blanc, Miss Cowell, Roger Cooper, John Kluge, Andrew Yell.
Middle row: Marion Carrigan, Linda Trevithick, Anne Mitchell, Susan Mitchell, Veronica ??, Evelyn Ray.
Seated: Robert ??, Hazel ??, Marilyn ??, Amanda Bushrod.
Please can anyone add more names or correct those above?
Teachers and Staff:
I remember Miss Piggot as the first-year teacher.
Miss Cowell was the intermediate class teacher, later replaced by Mr. Britten.
Miss Lavert was both school secretary and Tawny Owl of the Brownies.
Mrs. Carrigan (mother of John and Marion) was one of the two cooks.
Mrs. Ford lived in the teacher's house with her husband and son, Nigel, who was at boarding school.
Dr. Nutt was the school physician and Mr. Goldie the dentist. Fillings were carried out in the village hall to his vocal accompaniment and anything more drastic at his surgery in Haywards Heath.
We all walked to school, some arriving on the 89 bus as far as The Half Moon and Mr. Tye's general store and straggling down the lane on foot, the houses petering out into open countryside. I don't remember there being cars on the road..
All in all it was a happy time and after we moved away, school seemed very dull indeed.
The Large Version shows a close up.
View Large Version
Picture added on 10 June 2017 at 17:28