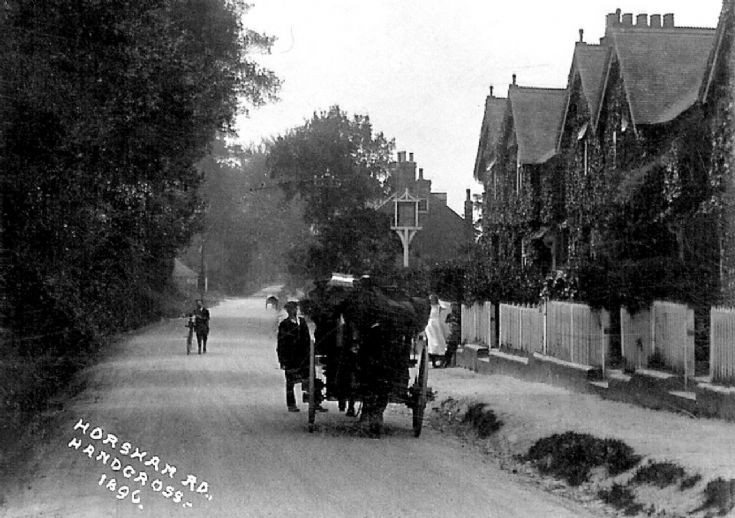 The Slaugham Archive
Horse and cart in Horsham Road, Handcross
The quality of this picture of Horsham Road in Handcross is not good, but I have uploaded it for the sake of completeness.
The horse-drawn wagon is well laden, but with what is not clear. In the middle of the road the cyclist has dismounted although the slope is quite gentle. I expect his bike has only one gear!
A young lady is standing nearby with a child and perhaps she lives in Warren Cottages which, if the date of 1896 on the front of the card is correct, would have been built only four years earlier. Could the ivy have grown that much in four years? Or perhaps the 1896 on the card is not a year but a reference number!
The Royal Oak lies back from the road and is not visible. The house beyond is the first of Reeds Cottages, there being no sign of Langmore and Nyton which were built in the 1960s. However, those two houses replaced a pair of cottages which were set back level with the pub and would not anyway be visible. (See
picture #1810
)
The building on the left is akmost certainly the old toll house. See the comments on
picture #1810
, and view the map showing the turnpike (T.P.) by selecting Large Version.
The Large Version shows a close up.
View Large Version
Picture added on 17 June 2017 at 20:38