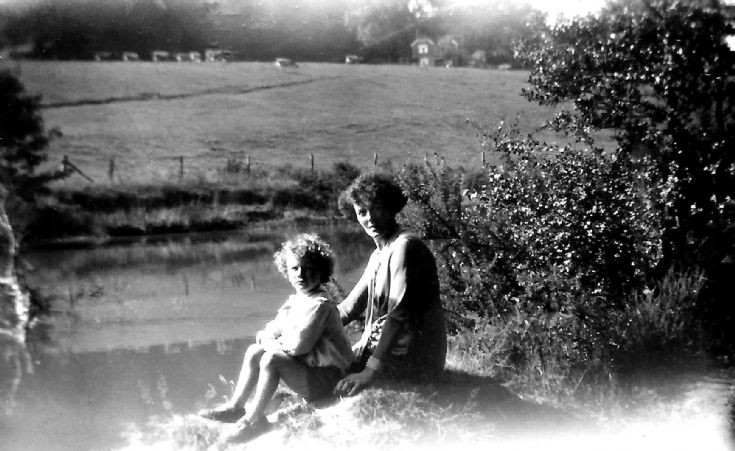 The Slaugham Archive
Beside the Cow Pond at Ashfold Farm
This photograph is of my father, Peter A Brown, and my grandmother, Elizabeth Hannah Brown (née Banks)(1884-1973).
It was taken beside the informally-named Cow Pond on the Ashfold estate where they lived in a lodge house. The pond was almost certainly created by building a dam across a stream to create a drinking place for the cattle.
At the top of the hill is the Ashfold farmhouse (see
picture #1289
) where stands, according to a note on the reverse of the photograph, "Mrs Carter's house on the hill".
A search in Kelly's trade directory of 1915 confirmed that John Alfred Carter was the farm bailiff for L. E. Smith Esq at Ashfold.
The Large Version shows a close up of the couple.
Select Open Document to view the reverse of the photograph, two pages of Kelly's directory showing Mr Carter's name, and a map of 1874 showing the Cow Pond numbered "246". At the top of the map can be seen the farmhouse and farmyard, Ashfold house on the left, Coos Lane on the right, and the northern tip of Ashfold Lake at the bottom. The house numbered 249 on the right is Nether Ashfold.
Another map of Ashfold and the pond can be seen by selecting Open Document on
picture #619
.
An expedition to locate the pond 90 years later is described on
picture #2046
.
View Large Version
Open Document
Picture added on 17 July 2017 at 12:01
This picture is in the following groups
Ashfold