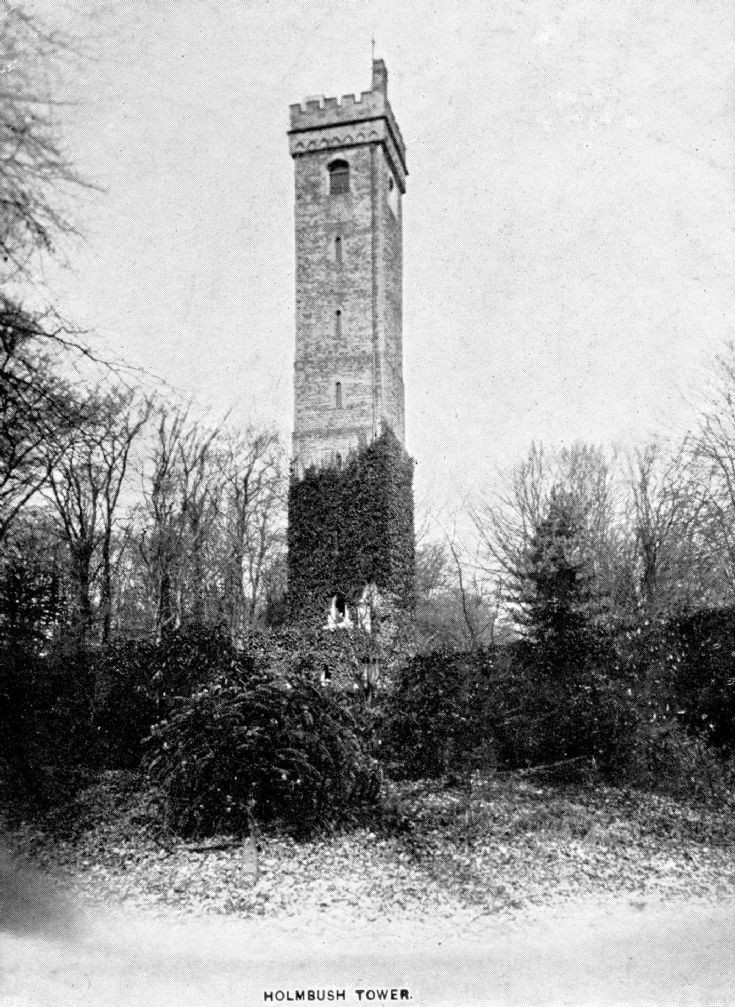 The Slaugham Archive
Holmbush Tower near Colgate
Although Holmbush Tower, being placed some two miles west of Pease Pottage, was located outside the area covered by this website I have included it as it would have been a major landmark known to everyone in the village before being demolished sometime in the early part of the last century.
The prospect tower was designed by a London architect, Francis Edwards for T. Broadwood, Esq.of Buchan Hill. It was located just a few yards to the east of Tower Road which runs from opposite the Dragon Inn at Colgate towards Faygate. The tower was about 380 yards from the pub.
The builder was Mr Summer who was assisted by his son and another man, Mr Cox. The stone was dug on the Holmbush estate and prepared during the winter months. Mr Summer laid every stone in the building himself over the summer months from 1855 to 1857.
The tower was 106 feet high and, it was reported usefully, as being 500 feet above London Bridge!
Slaugham resident, Mrs Ethel Margaret "Meg" Carter (née Kensett)(1898-1951)(
picture #204
) used a typewriter to talk about the tower in her "Rememberings" saying:
"There was a delightful walk from Slaugham over fields to Holmbush, where we enjoyed climbing the tower; alas, now pulled down.
The way was across the field at the bottom of the village, over the road at the top of the common, by Ashfold, Carterslodge, Tattleton's Farm, over the head of the Hammer Pond, and away out at the top of Colgate Street.
We spent many a picnic in the woods opposite the tower and always climbed the tower from which a splendid panorama could be viewed.
Sometimes, friends from Horsham would arrive by train at Colgate station (that's a mistake, it was Faygate station), and join us in our outing."
The large Version shows a close up of the top.
View Large Version
Picture added on 25 July 2017 at 10:29
Comments: