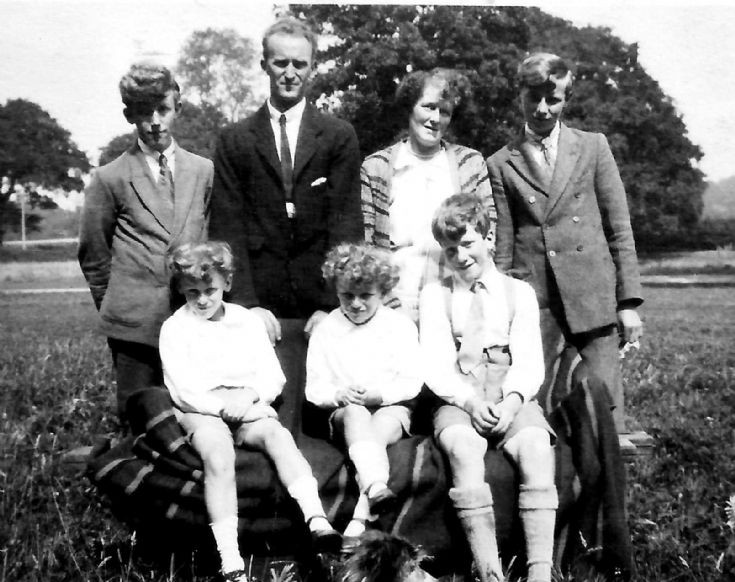 The Slaugham Archive
The Brown family from Ashfold, Handcross
My family used to live in North Lodge on the Ashfold estate and here are two photographs taken of them in the field opposite the house.
The main photograph shows the whole family.
From the left, standing: Arthur Brown (married Hepsy Doggett), James W Brown (my grandfather), Elizabeth Brown (my grandmother), Frank Brown.
Seated: James P "Jim" Brown, Peter Brown (my father), Leslie "Dick" Brown.
Select Large Version to view a similar photograph, but with just the children and their bikes.
Back row: Arthur Brown, Leslie "Dick" Brown, Frank Brown.
Front row: James "Jim" Brown, Peter Brown (my father).
In recent days my 94-year-old father has been recalling his life at South Lodge, where he was born, and North Lodge to where the family moved a little later.
Click on Open Document to read my notes made during our conversations. Also attached is a map (dated 1874, revised 1909) of the area covered. Lower left is Ashfold house, and slightly right of centre is Ashfold farmhouse with the Cow Pond (
picture #2045
) to the south and North lodge to the north.
To the right of the farmhouse is marked a gasometer, but evidence of some type of metal container is non-existent so far! However, it seems that water or oil was used as a way of providing a seal to stop the gas leaking. On the map the gasometer is marked as a small circular structure. One assumes that the gas was used for heating, lighting and cooking purposes.
View Large Version
Open Document
Picture added on 30 July 2017 at 19:38
This picture is in the following groups
People