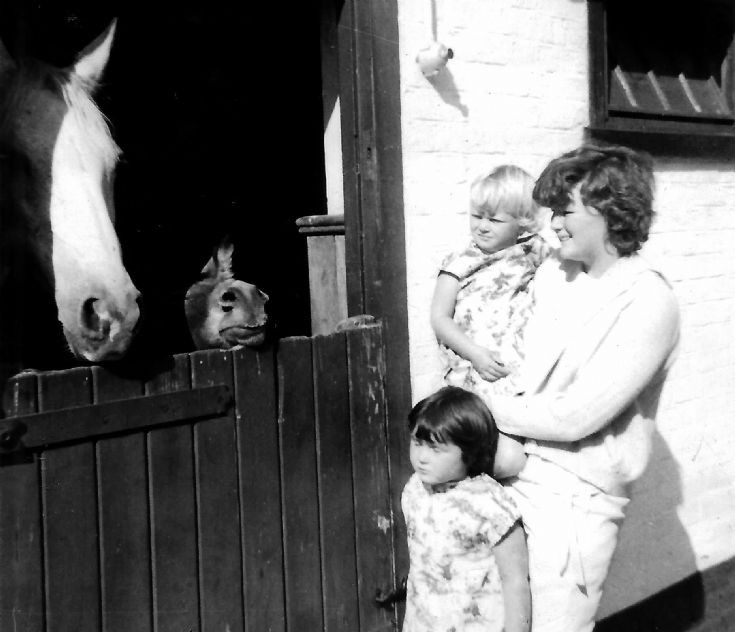 The Slaugham Archive
Hyde estate in the 1960s
When I was young we used to visit my grandfather, William Doggett, who was head gardener on the Hyde estate. On very rare occasions we were allowed to walk around the beautiful gardens he created and also visit the stables to see the horses on the estate.
One memory I have is walking down past the side of his cottage through to the animal graveyard. I had never seen anything like that before or since. I am not sure if I liked it or not but found it very fascinating as a child.
The photograph above shows my sister, Jean Brown, holding me (Linda Brown) up to see the horses which I remember had dirty teeth! The other small child is my sister, Caroline Brown.
The Large Version shows members of my family standing beside the ornamental pond in the Hyde gardens.
Left to right: Eric Brown (brother), William Doggett (grandfather), Alan Brown (brother), Jean Brown (sister), Peter Brown (father), Constance Brown (née Doggett)(mother).
Of the two small children, the blond one is me (Linda Brown), and the dark-haired child is my sister, Caroline Brown.
Select Open Document to view three more photographs of the Hyde.
1. The ornamental pond, left to right: Caroline Brown, Eric Brown, Constance Brown (née Doggett), Peter Brown, Jean Brown.
The lady holding my hand is William Doggett's second wife, Olive Dence. I am the small blond girl.
2. Grandad William Doggett standing outside one of Hyde Cottages where he lived. On the left is my mother, Constance Brown (née Doggett), and to the right of the house is his topiary bird. My grandfather handed down his passion of gardening to me, for which I shall forever be grateful to him.
3. The Hyde clock tower.
View Large Version
Open Document
Picture added on 04 August 2017 at 19:30
This picture is in the following groups
Hyde