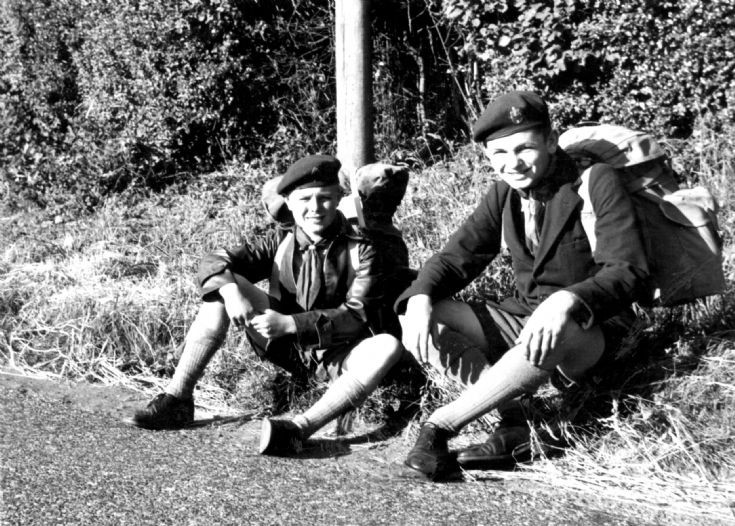 The Slaugham Archive
Scouts tackle the First Class Hike
One of the traditional challenges for a Boy Scout was to complete a First Class Hike. In July 1957 David Knape, on the left, and I set off from Handcross with a map and instructions to follow a certain route.
A short way down Staplefield Road we stopped for a couple of photographs. Considering the hike was only over 24 hours with just one night under canvas we seemed to be carrying large rucksacks. I suspect our mothers made us take far too much clothing to cover all eventualities!
Using both roads and public footpaths, we made our way to Staplefield and pitched our tent just off Brantridge Lane at White House Farm. The next morning we continued heading in a northerly direction and ended up in Pease Pottage, before returning to Handcross.
Needing refreshment we went for a drink in the Cheerio Café at Pease Pottage and played Johnny Ray's "Yes Tonight, Josephine" on the jukebox. It had been number one in the British hit parade in June 1957.
We both passed the test by completing a log book of the journey, but I recall that we decided to omit our visit to the Cheerio Café as we did not think that was a very scout-like activity!
The Large Version shows us setting off towards Staplefield.
Select Open Document to view two membership cards, one mine and another kindly contributed by Rex Tester.
View Large Version
Open Document
Picture added on 15 August 2017 at 11:43