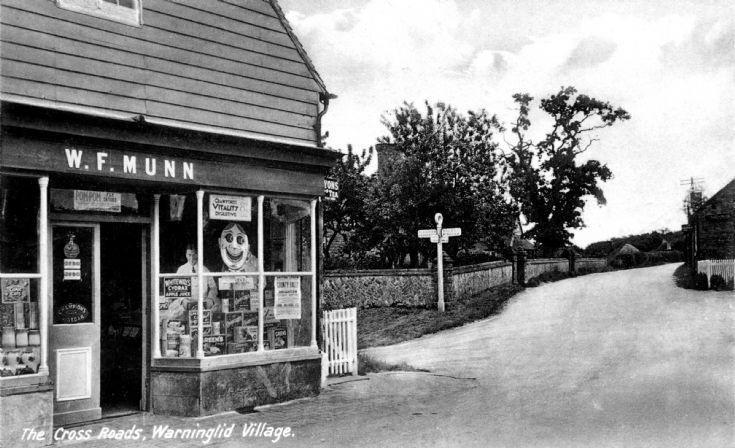 The Slaugham Archive
Village shop at Warninglid
The shop on the crossroads in Warninglid looks inviting, located as it was diagonally opposite the Half Moon pub. The building was later demolished and the site is now effectively the front garden of Rose Cottage.
Succeeding Mr Hemsley (
picture #263
) as proprietor of the shop was Walter Frederick Munn (1895-1969), assisted by his wife, Alice (1901-1978), originally of the well-known Newnham family at Portways farm.
The signpost shows Slaugham and Handcross to the left and Bolney and Wineham to the right.
Among the items promoted by the signage are Pom Pom fly catcher, Zebo black lead polish for fire grates, Champions vinegar, Whiteway's Cydrax apple juice, Crawfords Vitality digestive biscuits, and Lyons tea.
The message on the reverse was posted on 27th August 1951 and sent to someone in Cheam and reads:
"Dear Mum and Dad,
It is awful weather, but we are very happy here. Reg took me out in the chair yesterday, but unfortunately there are, what we call, "long, slow hills", and it is too much for him.
However, the bus stop is only 5 minutes away and when the weather is better I can get out a bit, but there are so few buses. Much as I like it, it wouldn't suit me to live here.
Fondest love from us both,
Reg and Win
Our phone number is Handcross 217, but we don't like to use theirs."
Warninglid's hills and infrequent bus service did not suit Reg and Win!
The Large Version shows a close up of the shop and its two smiling assistants!.
View Large Version
Picture added on 18 August 2017 at 10:54
Comments: