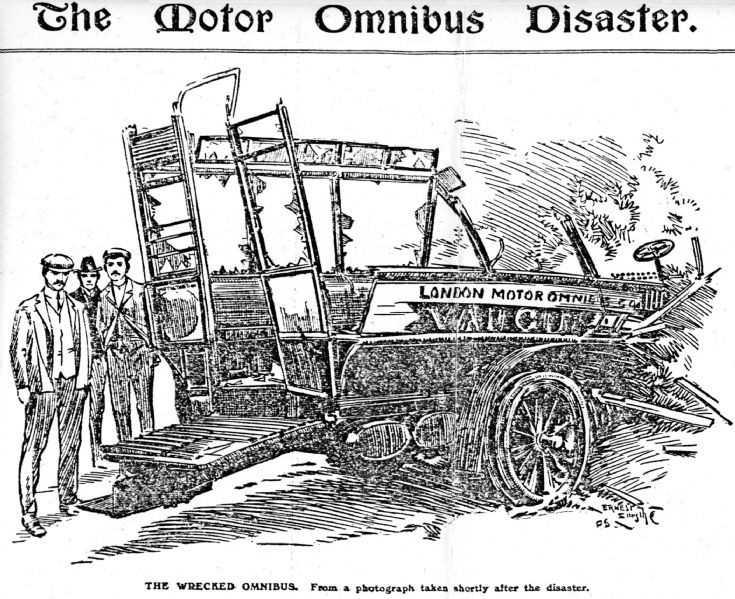 The Slaugham Archive
Vanguard omnibus accident (9 of 10)
It was not possible to reproduce photographs in mass-circulation newspapers in 1906 but the Daily Mail did its best by employing an artist to draw relevant pictures for the following day's edition of 13th July 1906.
The above picture was drawn from a photograph actually taken to reproduce as a postcard.
The Large Version includes a drawing which most definitely was not based on a photograph! A lot of passion went into the drawing and, more than any other picture or description posted on the Vanguard accident, illustrates the horror of being a passenger on the Vanguard on that day, particularly on the upper deck. Truly an inspired drawing!
The newspaper also included a contour map of the A23 as it crosses the Forest Ridge in north-central-Sussex. Select Open Document to view it.
On the left shows the steady ascent from Crawley Station towards Pease Pottage. The last half mile or so is the steepest part but in the latter part of the last century the dip in the road just south of the present-day emtrance to Tilgate Park has been removed by the creation of an embankment. (See
picture #367
) The dip is clearly seen in the diagram.
The inverted "T" at Pease Pottage indicates a road junction, and the "+" indicates the crossroads where the Slaugham/Staplefield road meets the A23. (See
picture #83
).
The summit is reached at Handcross where the height is given at 504 feet.
The two "<" (smaller than) symbols indicate "road fork, forward journey". The L (left) indicates the "left fork" at Hoadleys Corner (See
picture #96
), and the R (right) indicates the "right fork" at Triangle Cottages. (See
picture #74
)
At the bottom of the descent down Handcross Hill can be seen Homeland Farm. Early maps indicate that this was the former name of Stanbridge Farm which lays off to the east of the A23, opposite the garden centre to the west. I note that there used to be a bench mark on a roadside building that showed the height above sea level as 222.22 feet; quite a drop from 504 feet.
View Large Version
Open Document
Picture added on 29 August 2017 at 11:05