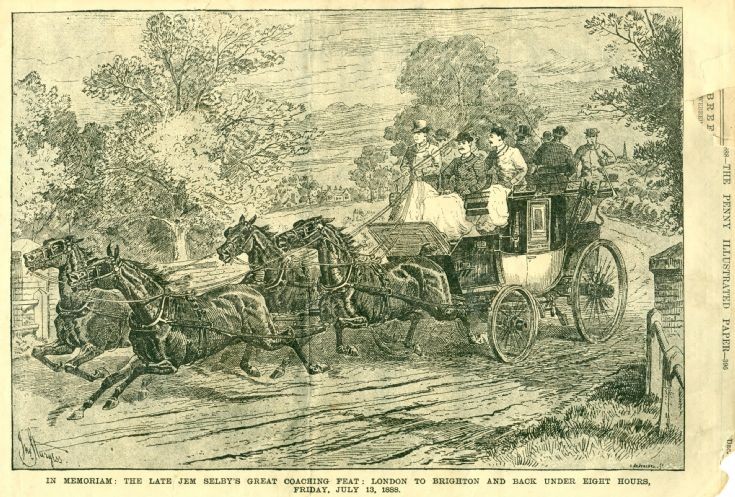 The Slaugham Archive
Stagecoach in Penny Illustrated of 1888
I live at Higher East Park, Handcross Road, Staplefield, opposite Hill House Farm. The house used to comprise two cottages named 12 and 13 East Park Cottages but we converted them into just one residence.
When renovating the house we found four pages of a newspaper, The Penny Illustrated from 22nd December 1888, probably put there when the house was built.
One article commemorated the recently-deceased Jem Selby's great coaching feat on Friday, 13th July 1888 of driving from London to Brighton and back in less than 8 hours to win a £1000 bet. It detailed the route, including stops, through Crawley, Staplefield and Cuckfield. It has a nice sketch of the coach and horses galloping between Cuckfield and Friars Oak.
The return journey took 7 hours 50 minutes including stops to change horses.
Google Maps gives the return journey by car today using the M23 and the "new" road from Handcross to Pyecombe as 3 hours 50 minutes, but it would not have been as exciting, or dangerous!
The Large Version shows a close up of the stagecoach.
Click on Open Document to view the other pages, including a short but romantic story of a vicar's daughter on the last page.
View Large Version
Open Document
Picture added on 21 September 2017 at 14:05