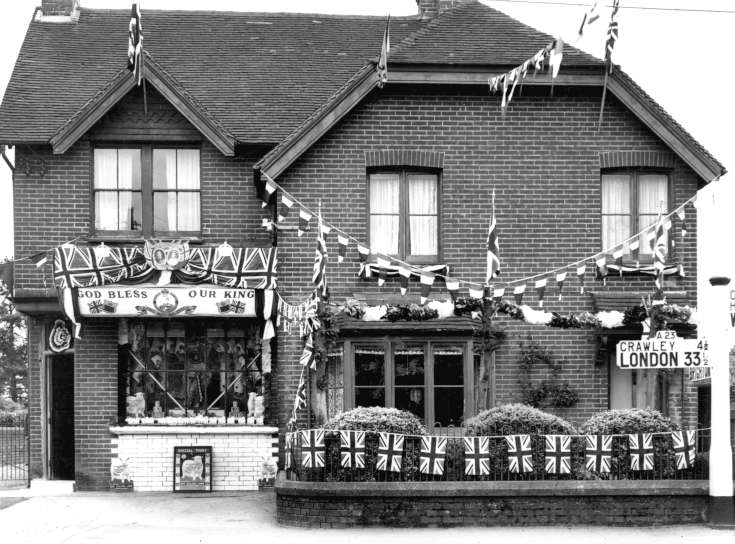 The Slaugham Archive
Butchers shop decorated for coronation (1 of 2)
Many of the shops in Handcross High Street were decorated in celebration of the coronation of King George VI on 12th May 1937 and this picture shows the butchers shop of Mr Harry Field and the adjoining house, Windy Hills.
Details of the unusual circumstances leading up to the coronation can be found at
picture #439
.
To view other pictures of the coronation click on "Albums" above and select "Coronations and Jubilees".
The Union Flags on the right of the picture are supported by the iron railings on top of the brick wall. This was probably the last time the railings appeared on a photograph as within three or four years they were removed for melting down in blast furnaces for the war effort. It has been estimated that over 1,000,000 tons of iron was collected in the early 1940s, but only about 26% was used for munitions. Rumours still persist that vast stock piles were stored in council depots or quarries, or even dropped on the enemy on bombing raids! It seems likely that, although the Minister of Supply, Lord Beaverbrook, was aware that most of the iron was not going to the foundries and untimately converted into armaments, the collections continued for propaganda purposes and public moral.
The Large Version shows a close up.
View Large Version
Picture added on 24 September 2017 at 08:20