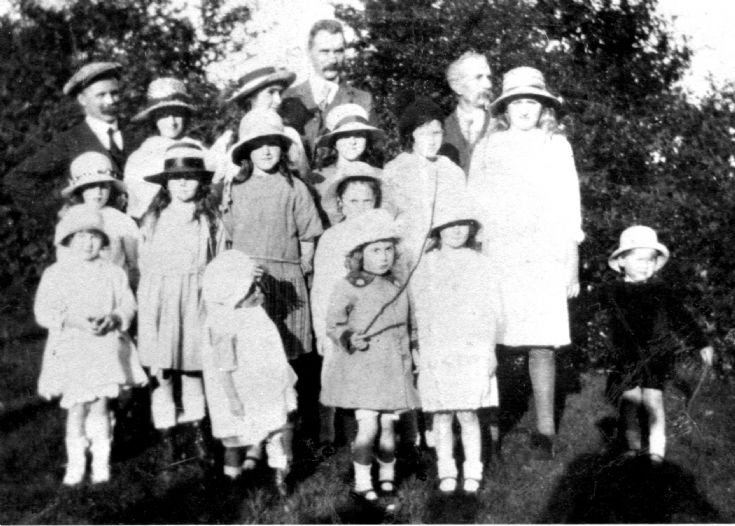 The Slaugham Archive
Zoar Strict Baptist chapel Sunday School outing
The photograph had no details with it except that some of the subjects were named on the reverse.
Tony Goring, son of Gladys Gander, confirmed that there was a strong Strict Baptist affiliation going back on her mother's side. Her mother Ann (née Longhurst) was a (very) Strict Baptist and he believes the family attended the Zoar Chapel in the High Street, though his mother later broke away and became C of E.
Only the family names of the three men were mentioned on the photograph but research has identified them in the village. At that point, evidence was still required to link the men to the Baptist chapel and this was forthcoming from Linda Knight who kindly supplied various newspaper cuttings.
The outcome is that the photograph is almost 100% certain to be of a Sunday School outing for the children organised by the Zoar Strict Baptist chapel in Handcross High Street. See
picture #124
.
A numbered version can be found by selecting Large Version.
Those identified: 1 Percival Stripp, 3 Eileen Stripp, 4 James Walder, 5 Eli Pankhurst, 8 Vera Holford, 9 Rene Holford, 11 Gladys Gander, 12 her brother, Alan Gander.
Select Open Document to read five newspaper cuttings associated with the chapel. The funeral of Mr Stripp confirms his link to the chapel, and the funeral of David Hoadley was conducted at the chapel by the minister, James Walder.
View Large Version
Open Document
Picture added on 16 October 2017 at 21:04