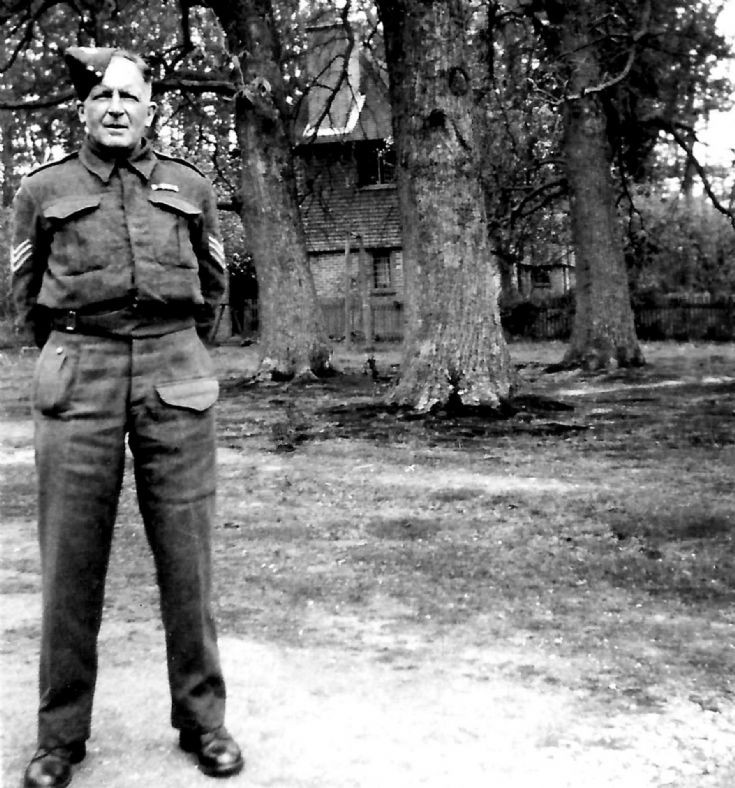 The Slaugham Archive
William Doggett in Handcross Home Guard
This is my grandfather, William "Bill" Doggett (1888-1973), who was head gardener on the Hyde estate. He is standing "at ease" and proudly wearing his Home Guard uniform with the three stripes of a sergeant. In the background is his estate house, being one of the Hyde Cottages.
The Large Version shows William as a corporal in the 7th Battalion Royal Fusilliers. He was mustard-gassed in France, sent home, and then went out to serve again. He was not a tall man from what I recall, but obviously a tough one.
Not only did William Doggett play in Handcross band he also played cricket for the village when they first moved to Handcross in about 1920, and later for the Hyde team.
William worked as an under-gardener at Nymans before taking the post as head gardener on the Hyde estate around 1925. My mother told me they moved all their worldly goods from Chodds to the Hyde on one of the lovely open Sussex waggons.
As a young man he was very musical; he played a violin and he also played tuba in Handcross band where he became assistant bandmaster and later bandmaster. His wife, Hephzibah, was very musical also; she played the harp and was reputed to have sung at Glyndebourne.
My mother, Constance, played the piano. She was taught in Handcross village by a lady who lived in one of the houses opposite Chodds Cottages, I am not sure of the lady's name. (Ed: Almost certainly that would have been Mrs Lily Jakes of 4, Batchelors Buildings)
William was also vice chairman of the Handcross Social Club which he helped found with Horace Mills as chairman, and Harold Tulley as treasurer. William is mentioned during Horace Mills' contribution in the audio of "Have a go" on
picture #1034
.
Select Open document to view four items as follows:
1. William as a young man playing the violin, obviously taken in a professional photographer's studio.
2. His Home Guard whistle which I still carry on my key ring,
3. Newspaper cutting from 1938 mentioning William as conducting Handcross Band.
4. Certificate "signed" by King George VI in recognition of William's service in the Home Guard from 1940 to 1944.
View Large Version
Open Document
Picture added on 31 October 2017 at 10:54
This picture is in the following groups
People