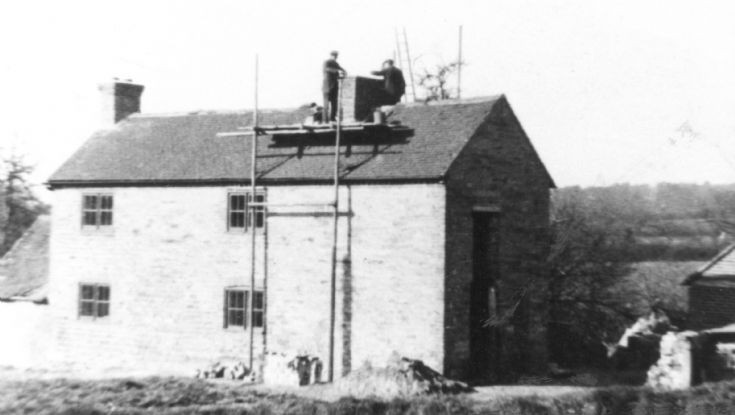 The Slaugham Archive
Church View Cottage, Slaugham
The photograph shows major building works taking place at Church View Cottage, formerly known as 6, The Green, at Slaugham.
No details whatsoever are attached to this picture, but I have estimated the date at 1950. It was probably taken with a cheap box camera as the picture quality is somewhat lacking!
The scaffolding consists of two upright poles supporting a platform from which to work. The other two "poles" are shadows! In addition to a ladder leaning against the rear there are two similar poles with, I assume, another platform on the back roof.
According to the 1842 Tithe Map and the 1841 census the tenants of Church View Cottage at that time were Henry and Mary Mitchell aged 86 and 81 years respectively. The owner was William Jenner, a butcher, who lived next door in one of the pair of cottages, since converted into a single residence known as Jenners. He lived with his wife, Elizabeth, and their six young children.
The new chimney being built in the above picture was part of a major refurbishment scheme including converting the window at lower right into a doorway complete with a stylish canopy above. The gable end on the right is reminiscent of a commercial enterprise with some sort of door opening on the upper level. I would guess that the building was half-house and half-commercial with the latter perhaps used by the owner, Mr Jenner, in his trade as a butcher.
What seems to be certain is that the building was extended to the right by about six feet and two more windows were added to the front. The extension matches the original decorative stone and brickwork perfectly, but the roof tiles are slightly different to the original.
The house was not Grade II listed until 1983 and therefore only the three original windows are noted.
There are a small number of pictures of the cottage on the website taken after the building works, but I can only find one,
picture #199
, showing part of the original building on the extreme left.
View Large Version
Picture added on 04 November 2017 at 14:35