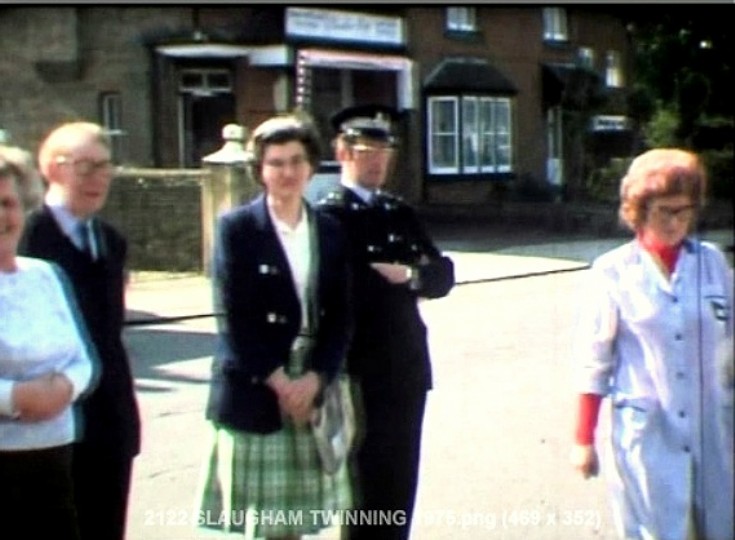 The Slaugham Archive
Slaugham Twinning Association visit Normandy 1975
In 1975 members of the Slaugham Twinning Association made their first visit to the Normandy villages of St Martin des Besaces and La Ferriêre au Doyen.
Sid Beard took along his cine camera to film the event and this can be viewed by selecting View Video below.
As the party gathered in the Red Lion car park, Joan Greenfield in her working apron and Mary Habershon (née Warren) in green tartan skirt turned up to wave goodbye. PC David Pearce was on hand to quell any sign of trouble.
The coach was shared by members of the Horsted Keynes Twinning Association which meant a slight detour on the way to Newhaven.
In about 1973 the lady district councillor of Horsted Keynes approached the Slaugham councillor, Roger Ray, to advise him that a neighbouring village to their twinned village of Cahagnes was also seeking to twin with a village in Sussex. Thus, it came to pass that a public meeting was held in the Parish Hall to form a twinning association.
Members spotted in the video include George Hood in dark blazer and tie, Roger Ray (sleeping), Christine Pearce, Eileen Leadbetter, and Nora Ray seated on the boat, Hilary Preston seated by window, Don Fraser with hands in pockets, Roy Leadbetter and Francis Rayner chatting, Helen Beard running, and Barry Ray by coach door needing a haircut.
A cine film of the weekend was also taken by Roger Ray and that can be viewed at
picture #669
.
View Video
Picture added on 05 November 2017 at 11:26