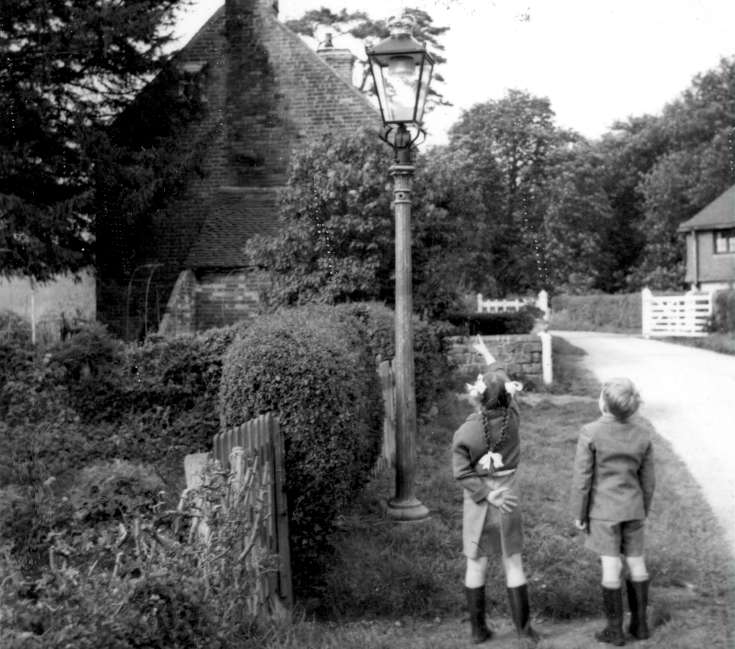 The Slaugham Archive
New street lighting for Slaugham (1 of 3)
So far as I can tell from studying the photographs on the website the earliest form of street lighting in Slaugham village was the one outside the old post office when it was located in the building now occupied by The Chequers. No doubt it would have been financed by the proprietor. Victor Kensett. (See
picture #202
)
Probably in the 1940s a tall and powerful street light was erected on The Green in front of the second post office, now called Post Cottage. (See
picture #215
).
To commemorate the coronation of Queen Elizabeth II it was proposed that the tall and powerful light should be removed and be replaced by three specially-designed lights to be located at various places in the village to improve the general ambiance of the village by both day and night.
The one at the top of the village was purchased by the Lord of the Manor, Mr John Smith, and erected outside Alba. In the minutes of a subsequent meeting it was stated that an anonymous member would finance the cost of this light, but I think we all know who that person was!
William Sugg and Company designed and supplied the lamp and their bill and part of their catalogue can be viewed by selecting Open Document.
The above photograph shows the newly-erected street light topped off with a crown. My six-year-old brother, Laurence Ray, is on the right, but who is the young girl?
The Large Version shows a close up.
View Large Version
Open Document
Picture added on 03 December 2017 at 21:12