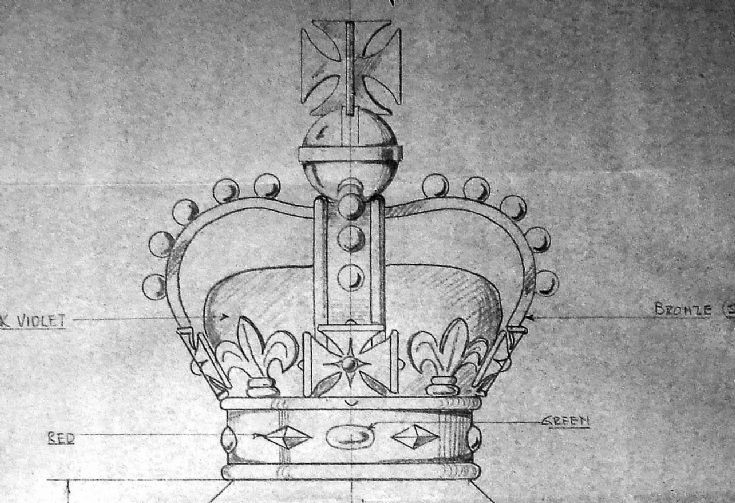 The Slaugham Archive
New street lighting for Slaugham (2 of 3)
Further to
picture #2139
, the above photograph shows a small part of the 18" x 21" plans drawn by William Sugg & Company for the three bespoke coronation street lights in Slaugham.
The Large version shows the complete set of plans.
One street light had already been installed outside Alba at the top end of Slaugham village, but those on the Coronation committee still had to decide where the other two would be located. It was quite easy to decide that the second one would replace the existed light outside the Post Office, but it turned out to be not so easy for the third one at the southern end of the village.
An enormous amount of time and effort was put into the location of the third light, and I am amazed by the assistance given by the electricity supplier, Seeboard, who erected temporary lights in the suggested locations to enable residents of the village to chose a preference and make their vote.
At the meeting of 27th November 1956 those attending the meeting were asked to add their signatures. The 15 attendees comprised:-
Hilary Preston (Slaugham Park), Thomas Dundas (Old Rectory), Michael and Daphne Braithwaite (Brook Cottage), Gertrude Preston (Slaugham Park), Joy Nash (Chantry House), Arthur Robins (former husband of Denise Robins of Furnace Pond Cottage) (Jenners), John Smith (Lord of the Manor)(London), Frank Jeffery (Yertiz, now named Clare Cottage), Inez and Tom Wilson (1, Bosworths Cottages), Alfred or Vera Ashton (Bosworths), Harold Constable (6, The Green), Phyllis Benn (Slaugham Park), R. Croft (Rosemary Cottage, now named Foyles).
I am grateful to Brian Funnell for help with the residences.
Select Open Document to view various documents illustrating the gradual but thorough process in deciding on the location of the street lights. Included is a hand-drawn map with somebody's choice of four locations!
View Large Version
Open Document
Picture added on 05 December 2017 at 17:43