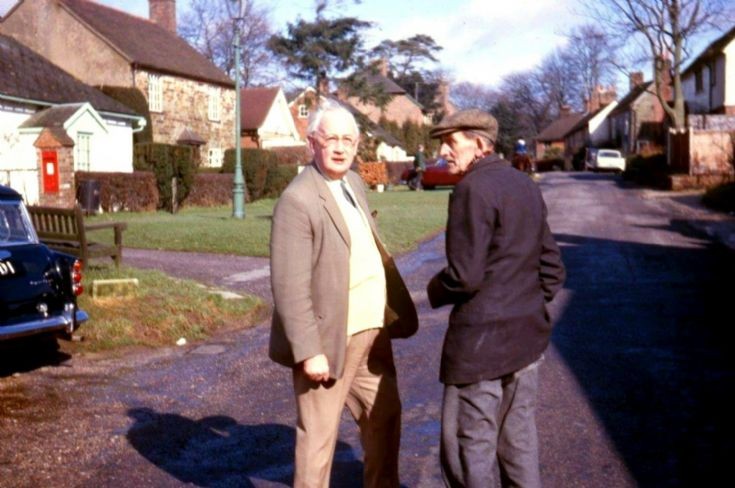 The Slaugham Archive
Slaugham village residents
Further to
picture #2153
, this is a picture of two residents of Slaugham stopping for a chat just up the street from the Chequers.
On the left is Thomas Dundas who lived at the Old Rectory, and on the right is Jim Longhurst who lived in the former Carpenters Arms pub at the top of the village.
The photograph was taken by my father, Bill Jones.
The Large Version shows a close up.
My Dad was English, and in 1943 he joined the Royal Navy, at which time he was sent to Goderich, Ontario, Canada, to train as a pilot. He trained with Aussies, New Zealanders and other Brits. There he met my mother, a Goderich girl, at a dance and corresponded for a few years when she sailed to England to marry him. He was in the last graduating class at our little airport, and the war ended before he faced any enemies.
They left England to move to Canada where he sold Singer Sewing machines, and after 3 years he became a Canadian Citizen and entered the Canadian Navy as a pilot.
He then became a helicopter pilot who performed air/sea rescues while stationed in Shearwater, Nova Scotia.
The reason we moved to England in 1963 was because our Dad and three other Canadian Navy families were seconded to a company called Redifon in Crawley, where they were building helicopter flight simulators and my Dad was the test pilot for the project.
Select Open Document for a general view of the village in the early 1960s.
View Large Version
Open Document
Picture added on 30 December 2017 at 16:44
This picture is in the following groups
People
Comments: