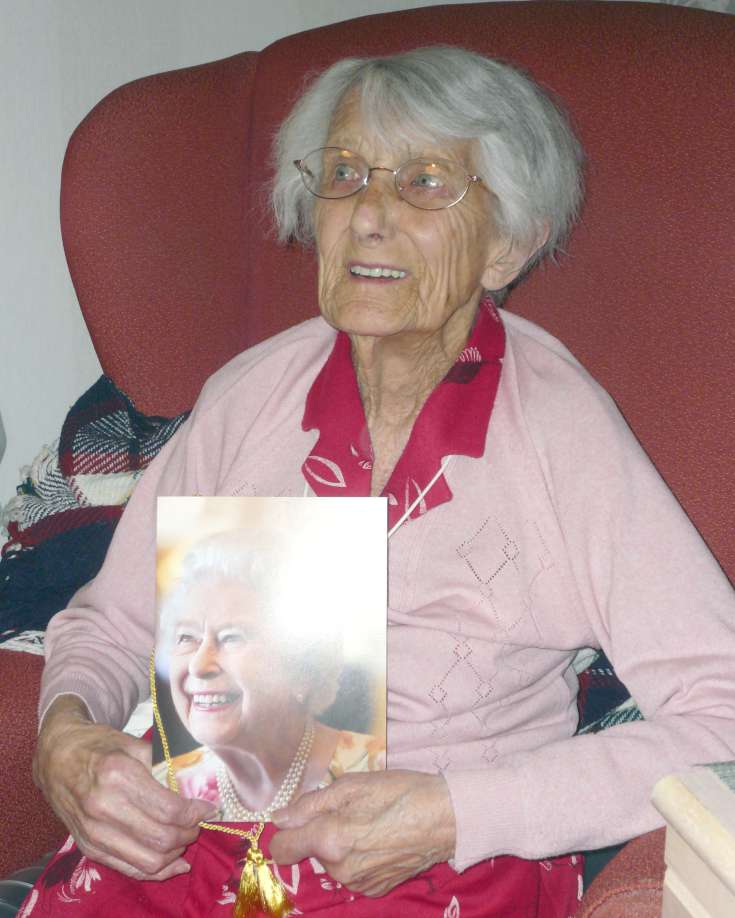 The Slaugham Archive
Mrs Elsie Cosens - 105-years-old today
Today, 9th January 2018, is a special day as it is the 105th birthday of my mother, Mrs Elsie Cosens. Surely, she must be the oldest person to have ever lived in Handcross.
The above photograph was taken today with her holding a very precious birthday card received from Her Majesty the Queen.
After she left Handcross until 2017 she lived in her own house in North Yorkshire, but has now moved into a residential home. Both Jane and I, and my brother, Gerald, and his wife live nearby and so she has always had regular family visits.
As a family, along with my two other brothers, Alan and Tony, we lived in an upstairs flat above the former baker's shop in Handcross High Street before we moved to 29 Truggers in 1948. (
picture #133
and
picture #2041
)
Select Open Document to view a photograph of the rear of the flat with my mother, Gerald and Tony.
In 1993, as one of the oldest members of the Women's Institute, she was filmed talking about her life in the W. I. (
picture #2151
).
The Large Version shows my parents enjoying a walk in Coos Lane, with Horsham Road beyond.
View Large Version
Open Document
Picture added on 06 January 2018 at 17:45
This picture is in the following groups
People
Comments: