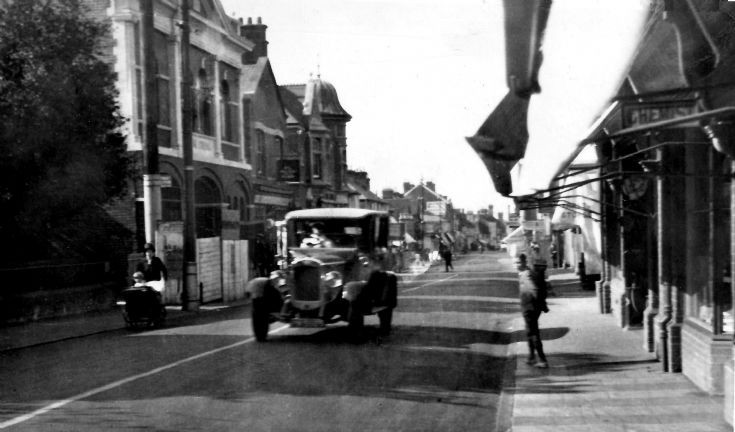 The Slaugham Archive
New Austin car for Ashfold estate
My grandfather, James W Brown (1886-1961), was chauffeur for the Ashfold estate. He is seen here in Brighton Road, Crawley having just collected a new Austin 10 car (1932-1947) for the estate.
It was purchased from the motor garage just down from the level crossing in Crawley. I believe the garage may have been called Parsons or Caffyn-Parsons?
The building on the left, and level with the car, is the former Imperial Cinema which was built in 1928 to replace the Imperial Picture Theatre which was built in 1912 but was destroyed by fire in 1928. The white space on the first floor still says "Imperial Cinema". It ceased being a cinema soon after WWII, following the building of the Embassy Cinema in 1938 in the High Street. Since then it has been in use as an auction room, a car showroom, and is currently being converted to provide affordable housing.
The building beyond the cinema was Gadsdon's motor garage during the middle half of the 20th century.
Immediately beyond the building with a domed cupola is Springfield Road, then the signal box, and then the level crossing; left to Horsham and right to Three Bridges. Beyond the level crossing is the High Street.
The Large Version shows a close up.
Click on Open Document to see a picture of the same scene as above but taken before the fire of 1928 as it shows the Imperial Picture Theatre. There is also a photograph of my grandfather in his role as chauffeur for Ashfold, driving one of their fine cars.
View Large Version
Open Document
Picture added on 12 January 2018 at 16:31
This picture is in the following groups
Ashfold