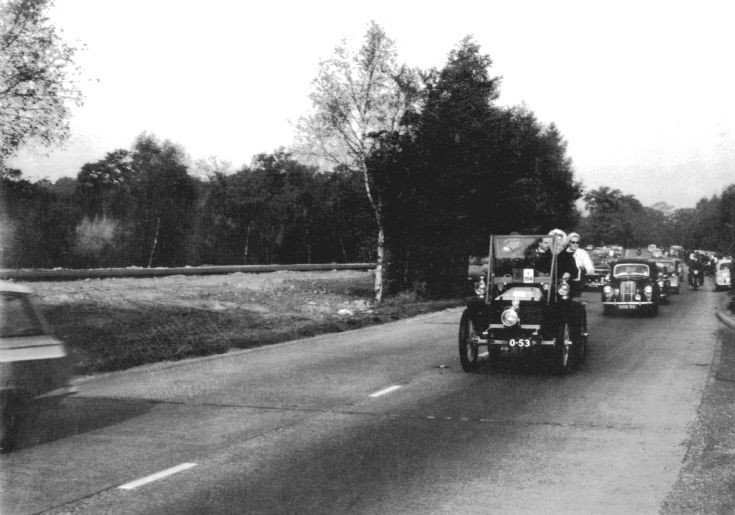 The Slaugham Archive
London to Brighton veteran car run - Slaugham exit
My father, Bill Jones, took this photograph of the London to Brighton veteran car run in November 1964. During the relatively short period we lived in Jenners in Slaugham in the early 1960s he went every year to the Slaugham exit off the A23 at the bottom of Handcross Hill to watch the cars go by.
The annual run was started in 1896 to celebrate the act which raised the speed limit for 'light locomotives' from 4 mph to 14 mph and abolished the requirement for these vehicles to be preceded by a man on foot. An earlier law required the man on foot to carry a red flag but that requirement was abolished in 1878.
The northbound carriageway can be seen some yards away. Today, each carriageway has three lanes and in recent years the junction has been closed to prevent traffic from joining or exiting the main road at this junction.
Needless to say, it would not be advisable to try and park on the side of the main road nowadays!
The Large Version shows a close up of the cars. Following the veteran car is a 1950s Ford Prefect.
Select Open Document to view a more peaceful scene of Slaugham after a heavy snow fall in 1964. The "roofs" on the buttresses against the walls of both the church and the boundary have been accentuated by a covering of snow.
View Large Version
Open Document
Picture added on 13 January 2018 at 15:27