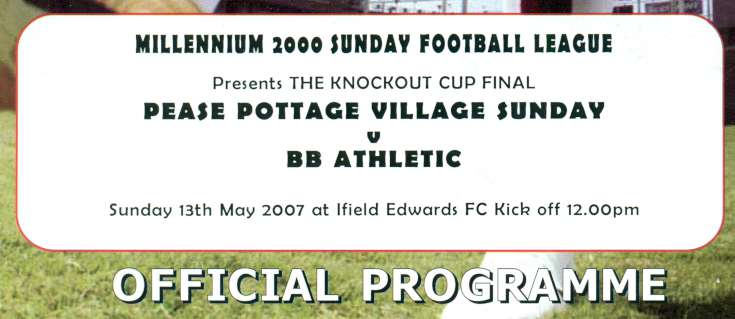 The Slaugham Archive
Pease Pottage football team in Cup Final
At the end of the 2006/07 football season Pease Pottage football team had progressed to the final of the knockout cup in the Sunday league by scoring an impressive 19 goals with just 1 goal against.
I have no record of the result but it was bound to be a close match as Pottage and their fellow finalists held the two top places in Division 1 in the league.
For the benefit of those searching family history the Pottage players were chosen from Dave Condon, Mark Holmes, Andy Bridgman, Paul Gates, Steve Gates, Glen Fitz-Coy, Jamal Sultan, Matt Brent, Ross Cambridge (Capt), Ross Dance, Chris Hughes, Sean Milne, Danny Attwater, Phil Butcher, Andy Dhiman, Josh Howell.
Manager: Steve Taylor. Coach: Phil Cambridge.
To view the complete match programme select Open Document.
The Large Version shows a newspaper cutting dating back to the early days of providing a football pitch at Finches Field by Mid Sussex Council and the keen interest shown by several teams in using the ground for their home matches.
View Large Version
Open Document
Picture added on 01 February 2018 at 09:53
This picture is in the following groups
Football