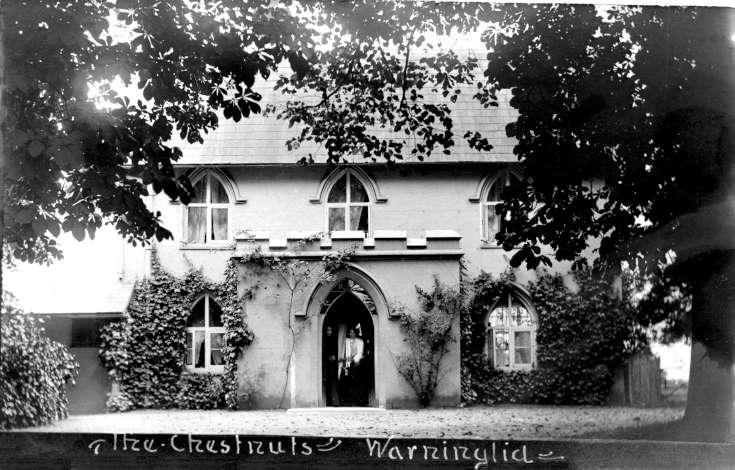 The Slaugham Archive
The Chestnuts, now Wealden House, in Warninglid
The photograph of The Chestnuts, located at the top of Rifleman Hill, was kindly supplied by Jennie Pettit. The residence has since been renamed Wealden House and much extended in size.
Another photograph of The Chestnuts can be found at
picture #252
where Michele Ryan explains that the house, which was built with its own chapel, was reputed to be the home of Alfred Lord Tennyson (1809-1892) at one time.
I can find no record in the census and other documents of Tennyson living in Warninglid but here follows what my father, Roger Ray, wrote in one of his books.
"Warninglid is a very popular village to live in these days, but it wasn't always the case. During 1950 Tennyson, the Poet Laureate, brought his new wife to live in the south-west corner of the village. The house seemed ideal and the prospect of the South Downs was magnificent, but the first big storm that came blew down part of the wall in their bedroom. Their discomfiture was increased by the discovery that their bedroom and dining room had been a Roman Catholic chapel, a baby was buried somewhere in the house, and that it had once been the haunt of the notorious Cuckfield gang of thieves and cut-throats. It was too much for the Poet Laureate. His son, in his book "Life", said that they fled the ill-omened spot "my father drawing my mother in a bath chair over a very rough road to Cuckfield". It is believed that the house was on the place or in the vicinity of Wealden House."
Early in the last century, George and Jeannie Favorke lived in The Chestnuts with their three sons, George, Frederick and Otto (known as Ned) who are shown as pupils at Warninglid School on
picture #950
. On the 1911 census all three boys were named as boarders at a grammar school in Essex.
The Large Version shows a close up of the house with two ladies in the doorway.
View Large Version
Picture added on 01 February 2018 at 11:06