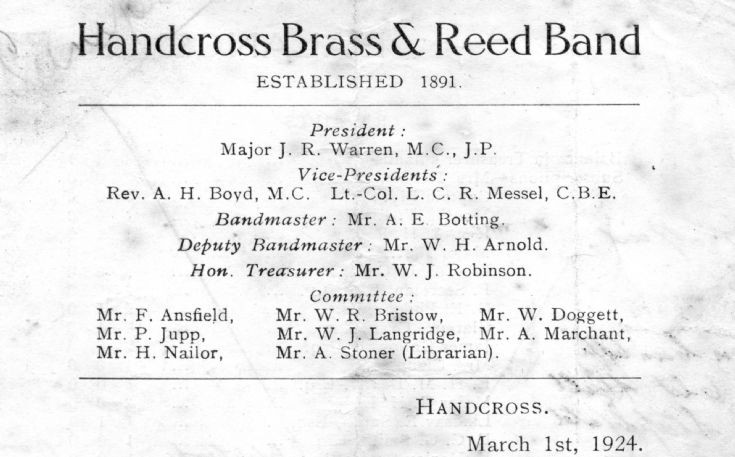 The Slaugham Archive
Handcross Brass Band financial statement 1924
This 95-year-old document is not in pristine condition, but at least it has survived. The Handcross Brass and Reed Band produced this document aimed, it seems, at gathering donations from the great and good of the village and also at securing bookings for the band to perform at.
There are some handwritten adjustments to the subscribers and perhaps these were made for drafting out the report for the following year.
The financial statement on the inside provides interesting information such as the hire of a char-a-banc to Tunbridge Wells for £5.00, but more interesting to me is the purchase of a shilling's worth of calcium carbide. As a schoolboy I learned that when added to water (or saliva) it produces a smell of rotten eggs, sometimes used to great effect on the bus taking us to school!
Furthermore there was a chemical reaction which produced acetylene gas which, under pressure, in a screw-top bottle, balloon or bubble would create an exciting explosion when ignited. No doubt the band members had a more peaceful use for the substance. I cannot imagine it was used for carbide lamps, but maybe it was used to replicate the sound of cannon in the 1812 Overture!.
Select Open Document to view the complete document.
The Large Version shows a newspaper cutting from 1969 reporting on the annual meeting of the band held in the Parish Hall.
View Large Version
Open Document
Picture added on 10 February 2018 at 17:01