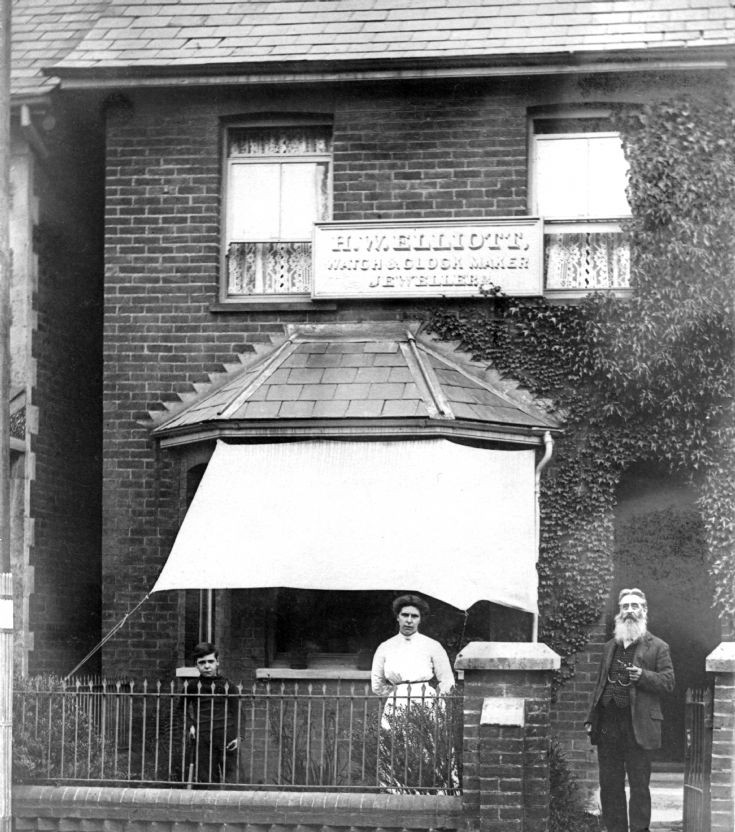 The Slaugham Archive
Henry Elliott outside Oakley Cottages
No details are attached to this photograph of Mr Henry Elliott standing outside his house and business premises at 1, Oakley Cottages, Handcross.
Another picture of Mr Elliott and various comments relating to his family can be found at
picture #137
and
picture #1176
.
Mrs Emma Elliott (née Gratwick) died a few years before the 1911 census aged 60 and the picture must have been taken after that year. The census suggests that Henry was living at Oakley Cottages with an unmarried niece, Ida Annie Gratwick, aged 27, and a nephew, Frederick Albert John Gratwick, aged 6. I have dated the photograph as 1917 making Ida 33-years-old, and Frederick about 12.
There is an element of presumption in so naming the people in the photograph.
Ida was the daughter of Harry Gratwick who was a younger brother of Emma.
So far as Frederick is concerned, I have been able to confirm that his birth was registered in Leatherhead in the July/September quarter 1904, but can find no other mention of him in his earlier years, or in his future years.
The Large Version shows a close up.
Select Open Document showing a close up of the sign attached to the front of the house describing Mr Elliott's trade as "Watch and Clock Maker – Jeweller".
View Large Version
Open Document
Picture added on 17 February 2018 at 15:49