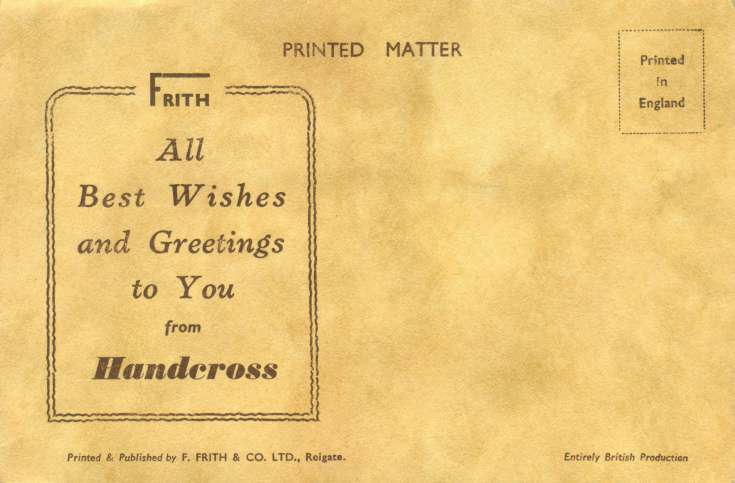 The Slaugham Archive
Multi-page postcard showing views of Handcross
Around 1950, Francis Frith produced a multi-page postcard featuring six photographs of post-war Handcross. The views are excellent but unfortunately they were not printed on superior photographic paper.
The above shows the front page of the wallet, into which the photographs concertina.
Select Open Document to view the six pictures.
1. A view looking north up Horsham Road showing how the road looked before the bridge was constructed, which produced today's hump in the road restricting the view to the High Street. Furthermore, steps had to be constructed to descend to Rose Cottage and Wheel Cottage on the left and All Saints Church on the right.
Note that the church chimney has since been removed.
In the foreground a tree has been removed and perhaps the ground to the right is being prepared to build Elmwood.
The owners of The Elms or Hedges have an early television aerial. If the date of 1950 is correct then they would not know that there would shortly be a coronation, which event led to the rush to buy television sets!
2. I suspect that the lake is the Hammer Pond on the road from the Wheatsheaf pub to Horsham, but I am not sure.
3. The newly-built Truggers estate looking quite bare with no recent planting of trees and shrubs. Only concrete posts!
4. A rare sight of Horsham Road without any traffic. The front garden of the Royal Oak seems to have been levelled and the picket fence removed ready for a tarmac parking area.
5. A Standard Vanguard car has parked outside the Red Lion as was permitted in those days. Perhaps it was the photographer's car. (
picture #546
)
6. Handcross looks like a ghost town with no vehicles in sight and only a handful of residents.
Open Document
Picture added on 18 February 2018 at 08:22