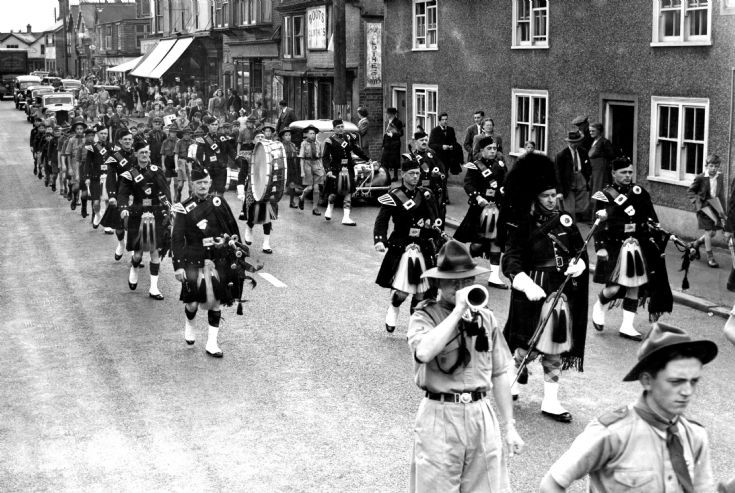 The Slaugham Archive
Scouts parade in Handcross High Street
No details are available for this photograph of a Scottish pipe band and Handcross Scouts with various others in fancy dress parading in Handcross High Street.
Usually the scout movement celebrates St George's Day with a march to the church to hold a service, but with the Scottish band and those in fancy dress I would suggest that their destination is the Recreation Ground for a fete or similar.
With grateful thanks to Rex Ray, Bill Stockton, Ron Cosens and Tom Chamberlain many of those pictured have been identified as follows.
Nearest column:
Dennis Foord-Brown - Blowing bugle
David Mitchell – 1st scout
Ian Hardern – 2nd scout
Jim Brown – 4th scout
Eric Smith – 1st cub
Ronald "Chubber" Newman - 2nd cub
Margaret Jakes or Rita Bosley – behind last cub
Middle column:
Brian Scott (hidden?) - 1st scout
John Vigar – 2nd scout
Roy Lane – 3rd scout
Ralph Bosley – 1st cub
Ron Cosens – 4th cub
Sheila Duncan (Asst. cub leader) after last cub
Mrs Dorothy Streeter – In black dress following Sheila. 4 Chodds Cottages.
Farthest column:
Rex Ray – 1st scout
Tom Chamberlain – 2nd scout
Michael Lane – 2rd scout
Brian Streeter – 1st cub
Jim Biggs – 2nd cub
Sid Sargent – Walking beside the cubs, but in jacket and tie. However, scout records of 1948 show cubmaster as Albert Bushrod, The Lodge, Colwood, Warninglid. Perhaps it is him.
On pavement:
Ted Cosens – Hands in pockets, with pipe and hat.
Mrs Florence Jenner – on Ted's left, outside her house, 3 Batchelors Buildings
Raymond Trickey - In front of middle window of Batchelors Buildings.
Mrs Marjory Trickey - To the left of Raymond.
Tony Cosens - Beyond Mrs Trickey.
Lizzie Cheeseman or Daphne Dengate – Smartly dressed under "Clothes – Shoes" sign.
Reginald Leppard – At rear of parked car, turning round
Brenda Rowe – Standing on edge of pavement with hands in pockets of fawn coat.
Mrs Elsie Cosens – Behind Brenda with back against the window.
Edie Mitchell – Elsie's sister, standing to left of her.
Mrs Norah Housby – Under first awning, behind lady with white domed hat
Mrs Lily Jakes – Standing under the nearest corner of the shallow-pitched shop canopy, looking at camera.
shop canopy, looking at camera.
Please can anyone add more names or correct any of those above.
The Large Version shows a close up.
Click on Open Document to zoom in further.
View Large Version
Open Document
Picture added on 25 February 2018 at 12:21
Comments: