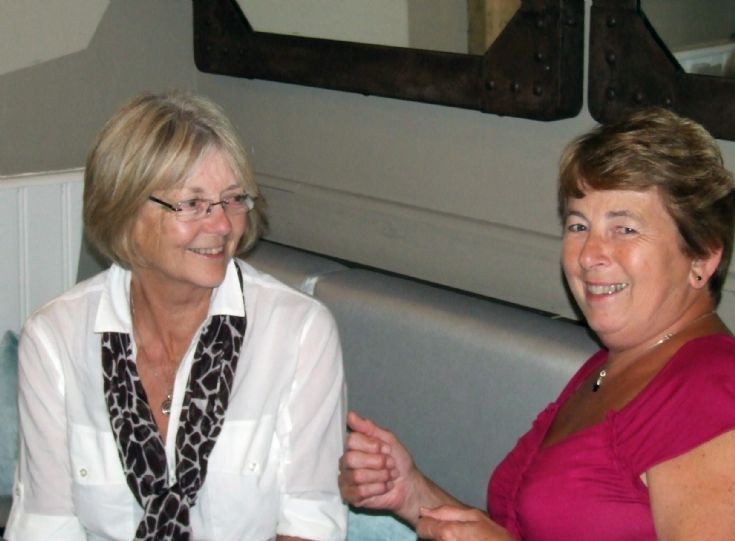 The Slaugham Archive
Reunion of Handcross school friends in Red Lion
In 2011, the elder daughter of Stephen Housby, former resident of Truggers in Handcross, married and this led to the rare occurrence of all the Housby clan being in England at the same time. Thus, it came to pass that a reunion was arranged whereby several of those who attended Handcross school and then the youth club and other sports and social events in the 1940s and 1950s met up in the Red Lion on 9th August 2011. The spouses were also invited!
I decided to take a camcorder and purchased a splendid LED lighting system especially for the shooting.
Several young lads from the village had gathered in the bar area and after some discussion they had decided that the reunion was really a speed dating evening for pensioners. It's not often that the words "speed" and "pensioners" appear in the same sentence!
The above photograph shows Josephine Newton (née Housby) on the left in prime position as compensation for omitting most of her from the video! On the right is Eva Knape.
Select Open Document to view three more pictures. (1) Chris Johnson, Daphne Lane (née Boxall), Bill Boxall. (2) Susan Trickey, Jennie Pettit (née Hood), Penny Thomas (née Housby). (3) Raymond Trickey, Janet Chisholm (née Housby).
I have added names to the video and, for better or worse, decided to name the ladies as I refer to them viz. their birth names if they were Handcross born and bred, or married names if they married Handcross lads.
Those attending:
Bill Boxall and Margaret Boxall (née Beaver)
Dougal Chisholm and Janet Chisholm (née Housby)
Chris Johnson and Julie Johnson (née Gasson)
Eva Knape (née Hansen)
Mick Lane and Daphne Lane (née Boxall)
Norman Leppard and Norma Leppard (née Smith)
Mike Newton and Josephine Newton (née Housby)
David Pearce
Jennie Pettit (née Hood)
Dave Philpott and Gill Philpott (née Leppard)
Barry Ray and Josie Ray (née Tiernan)
Barbara Sargent (née Housby)
Penny Thomas (née Housby)
Raymond Trickey and Susan Trickey (née U'ren)
Ron Verlander and Jackie Verlander (née Gibbons)
Select View Video to watch the pensioners behaving impeccably!
Open Document
View Video
Picture added on 20 March 2018 at 12:02
Comments: