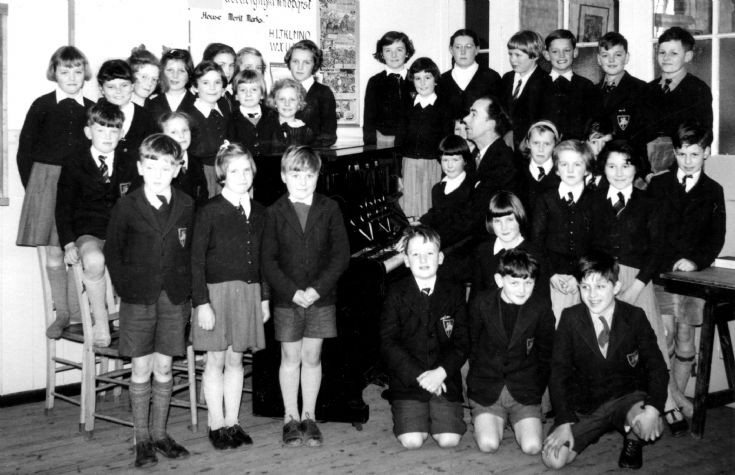 The Slaugham Archive
Handcross School choir under Mr Rees Thomas
The Handcross School choir are pictured here at a practice overseen by teacher Mr Rees Thomas at the piano.
Another pHotograph of the choir can be found at
picture #1424
where are are standing in the playground.
They are all named in that photograph and I have compared the faces with the one above and compiled a list of the choristers below. I cannot guarantee success but no doubt someone will point out any errors.
The Large Version shows a numbered version.
1 Jacqueline Walder, 2 Wendy Faulkner, 3 Sheila Newman, 4 Shirley Newman, 5 Pauline Stoner, 6 Valerie Sayers, 7 Susan Arnold, 8 Vari Caldwell, 9 Pat Venn, 10 Joan Miles, 11 Wendy Smith, 12 Peter Gasson, 13 John Mason, 14 Christopher Zuidyk, 15 Nigel Elliott, 16 Brenda Weller, 17 Jill Etherington, 18 Sara Ray, 19 Julie Cooper, 20 Robert Chamberlain, 21 Mary Bartlett, 22 Michael Wyles, 23 Teresa Lilley, 24 Janet Holmes, 25 Jennifer Constable, 26 Carol Ray, 27 Andrew Macnaughton, 28 Sandra Chalk, 29 Billy Dawson, 30 Andrew Merritt, 31 Carol Bowles, 32 John Davis, 33 David Haynes.
Select Open Document to view another photograph of the choir, and one of Mr Thomas with a classs of attentive pupils.
View Large Version
Open Document
Picture added on 21 April 2018 at 11:12