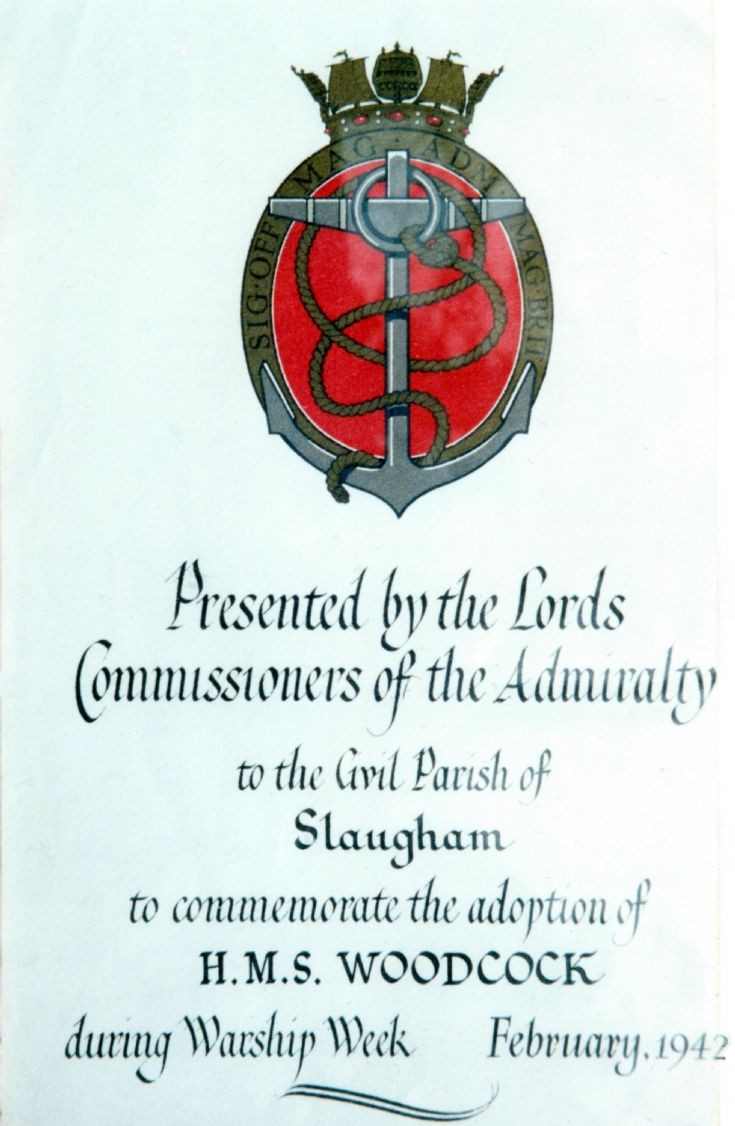 The Slaugham Archive
HMS Woodcock adopted by Slaugham Parish (1 of 2)
Warship Weeks were British National savings campaigns during WWII with the aim of Royal Navy warships being adopted by a civil communities. During the early parts of the war, the Royal Navy had not only lost many ships but was facing increasing pressure to provide escorts for convoys in the Atlantic. While there was not a shortage of sailors, ships sunk by enemy action had to be replaced.
Between 1941 and 1942, the concept of National Savings was introduced by the British government. Each region in the country was provided with a savings target to achieve. This was based on the region's population, with each general level of savings having a class of warship assigned.
Thanks to the efforts of the local residents, their target was achieved and the Admiralty presented the adoption of H.M.S. Woodcock to the Parish of Slaugham.
In 1983 Charles Kindred, then Clerk to the Parish Council, wrote to the Ministry of Defence to find out more about the history of the warship since its adoption some 40 years earlier.
Copies of the Clerk's letter and documents received from the Ministry can be viewed by selecting Open Document.
Five crew members from some of the ships in the 2nd Escort Group, which included H.M.S. Woodcock, met in 1964 and formed an Association to honour the memory of the ships and crew who successfully destroyed so many of the U-boats in WWII.
The Large Version shows a photograph of former members of the Royal Navy and I have to assume that these are the five men referred to in the above documents.
On the reverse is added:" Left to right. Harry (Me), Ted, Bill (not our ship), Dennis, Bob."
View Large Version
Open Document
Picture added on 27 April 2018 at 19:58
This picture is in the following groups
Military