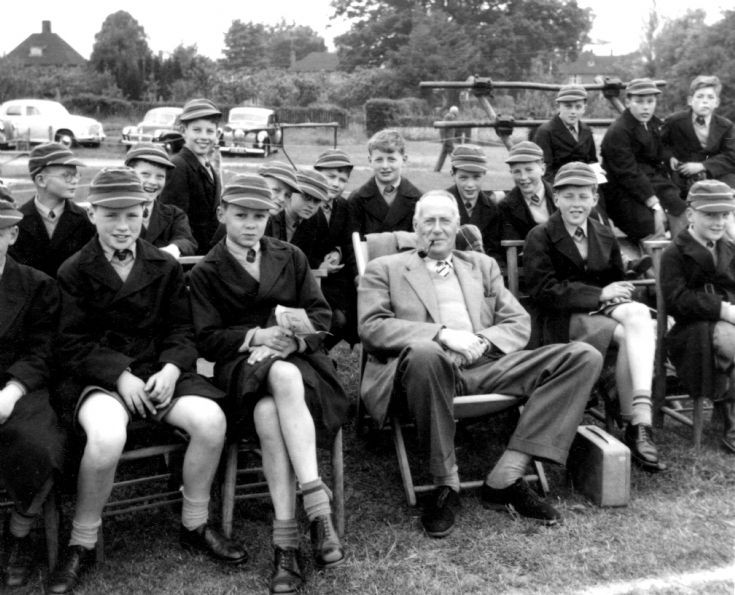 The Slaugham Archive
Cottesmore School, Pease Pottage at cricket match
The date has been estimated but I recognise the teacher as being Alan Hilder (1901-1970) who coached cricket to the boys of Cottesmore School, Buchan Hill, Pease Pottage. He was well qualified to do so as he played first class cricket primarily for Kent from 1924 to 1930. He scored a century in the second innings of his first match for Kent, but, regrettably, that was to be his only one!
He was educated at Cottesmore School when it was located in Hove, and also Lancing College.
I had assumed he had taken the boys to watch a cricket match at Staplefield, but I cannot recognise the buildings beyond, so perhaps it was somewhere else. With the ropes and temporary stands I suspect it was a special match.
The Large Version shows a close up. Please can anyone identify the boys?
More of the school and many other matters relating to Pease Pottage can be viewed by clicking on Open Document. There is vast amount of information included on the two pages and it was compiled by local business man, Ted Croucher, who has kindly given permission for his work to be uploaded to the website. Ted wrote it in fairly recent years, but the final paragraph relates to the planned development in the Old Brighton Road. This has since taken place with the estates of Cotsford, The Squires, and The Hemsleys being completed.
View Large Version
Open Document
Picture added on 28 April 2018 at 16:10