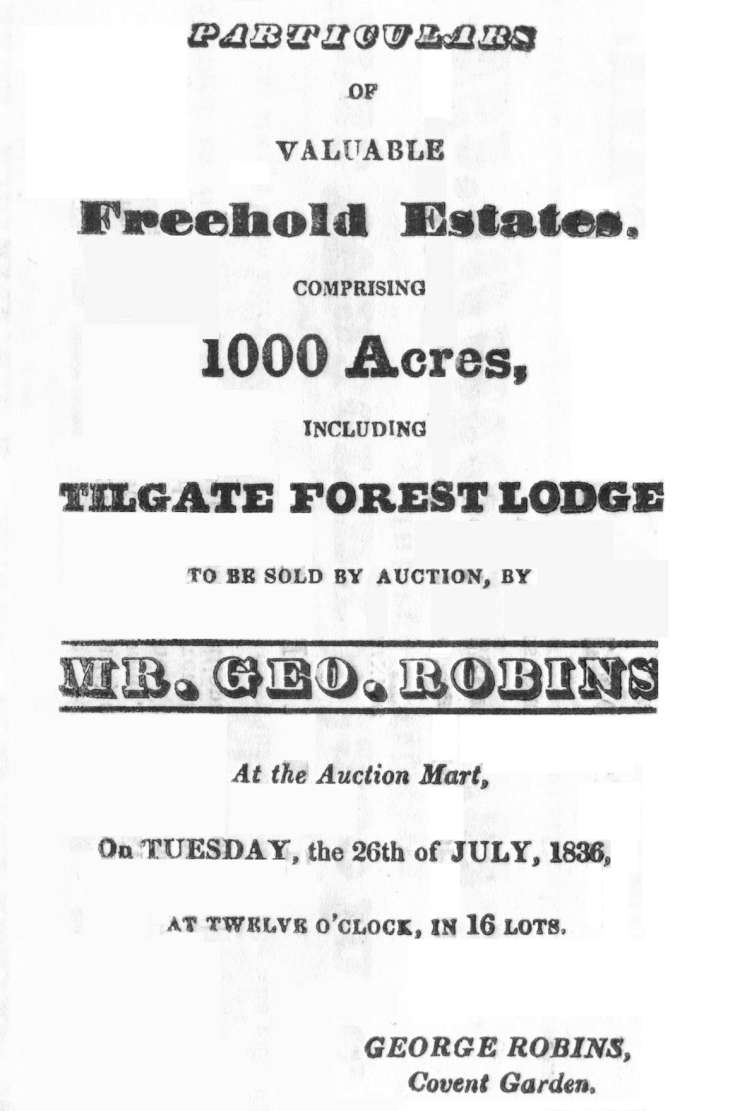 The Slaugham Archive
Auction 1836 (1 of 8) - Cover and conditions
A recent acquisition to the archives is a catalogue of a sale by auction in the City of London on 26th July 1836, offering land and buildings in both Handcross and Pease Pottage.
Unfortunately, there was no map supplied with the catalogue and it has been difficult to identify some of the parcels of land.
It is fortunate that the auction took place within a few years of the 1842 Tithe Map which gives details of ownership, the occupier, and the acreage.
No details in the catalogue give the ownership of the land and buildings either before or after the sale, other than it is stated that Sir Edward Sugden (1781-1875) lived for many years before the sale at Tilgate Forest Lodge in Pease Pottage, the most valuable lot being offered. The 1842 Tithe Map lists the owner of Tilgate Forest Lodge as Sir Edward, but the occupier as Benjamin Cowie. Many other properties show Sir Edward as the owner in 1842 and I can only speculate that he was the principal buyer at the auction even though it is said that he lived at TFL for many years beforehand, presumably as a tenant.
Sir Edward was a Conservative MP for various constituencies during the periods 1828-1832 and 1837-1841. In 1852 he was raised to the peerage as Baron St Leonards of Slaugham.
The Large Version shows the front cover of the catalogue. I resume the typesetter was given free rein to use as many fonts as he wished!
Select Open Document to view the conditions as set out on page two of the catalogue.
View Large Version
Open Document
Picture added on 07 May 2018 at 15:52