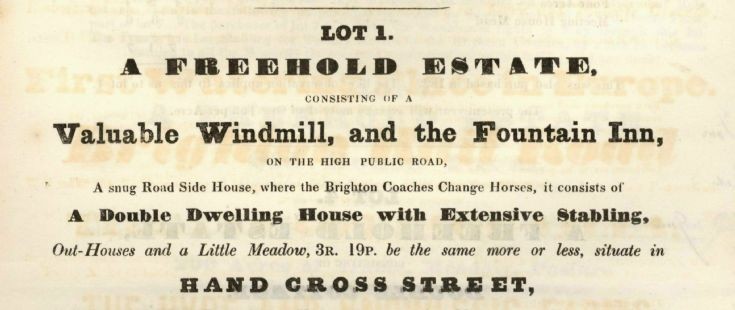 The Slaugham Archive
Auction 1836 (2 of 8) - Fountain Inn and windmill
At the auction in 1836, Lot 1 comprised the Fountain Inn, the windmill, and a small plot of land to the rear, all located at the north end of Handcross High Street.
The Tithe Map of 1842 discloses that the owner was Sir Edward Sugden and presumably he purchased it at auction. The catalogue has hand-written notes which indicate that the starting bid was 500 guineas and the winning bid 1120 gns (£1176).
The sitting tenant of the Fountain Inn and the small plot of land at the rear was Henry Knowles, and the tenant of the windmill and plat William Nye (
picture #2135
).
The Large Version shows a copy of page three of the catalogue.
Click on Open Document to view a copy of the 1842 Tithe Map. The Fountain Inn (300), Windmill and plat (308), and Mill plat and yard (302) are shown at the top of the map.
The next building (310) to the south was demolished to make way for the building of Archpool in 1894. To the south are the four terraced cottages (311) of Batchelors Buildings (
picture #417
).
Lot 2 comprised five, later converted to six by division, small parcels of land which according to the Tithe Map of 1842 were owned by Sir Edward Sugden and farmed by Henry Knowles of the Fountain Inn. On the Tithe Map they are numbered 301, 303, 304, 305, 306, and 307.
The bidding started at 400 gns and the winning bid was 550 gns (£577 10s).
View Large Version
Open Document
Picture added on 07 May 2018 at 17:38