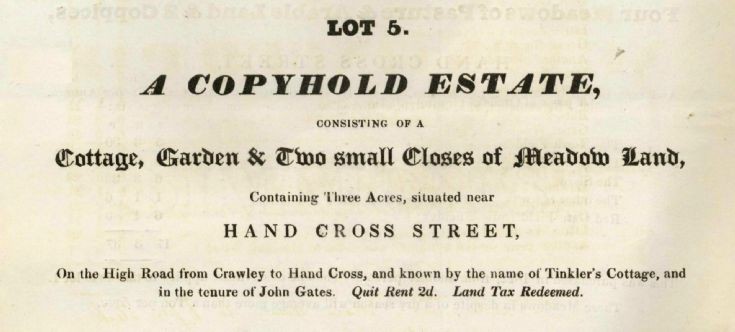 The Slaugham Archive
Auction 1836 (3 of 8) - Handcross houses
The Large Version shows the whole of page 4 of the catalogue for 1836 auction of land and property.
Lot 3 comprised two small fields with a total 7 acres and these are listed in the Tithe Map as three fields numbered (327) Blacksmith shop field, (328) Hovel field, and (329) Plantation field. The map can be found as the first item by selecting Open Document. The High Street runs from Archpool in the north to the Red Lion in the south. Development over the years since has meant that, broadly, 75% of the land has been used for Windmill Plat/Smugglers End, the A23 bypass, part of Truggers; with 25% remaining as field and woodland. The bidding started at 200 gns and the winning bid was 340 gns (£357).
Lot 4 comprised a "double cottage" in the Handcross Street. I have identified the location as being where Archpool, which was built in 1894, now stands. The site on the 1842 Tithe Map can be viewed as mentioned above; the plots being (309) and (310), The bidding started at 100 gns and was won be a closing bid of 210 gns (£220 10sh).
Lot 5 relates to Tinkler's Cottage set on land of just over 2 acres. It is numbered (290) for the cottage, garden and yard, (291) for the front field and (292) for the lower meadow as described in the Tithe Map, an extract of which can be found as the second picture by selecting Open Document. The junction with Balcombe Lane in the London Road can be seen in the lower right corner. Opposite Tinkler's Cottage stood Handcross House, which was replaced by another house more distant from the main road and, this time, named Handcross Park.
The bidding started at 100 gns and the closing bid was 140 gns (£147).
Just 40 years after the auction Tinkler's Cottage came into the ownership of the National Schools Board who arranged for the cottage to be demolished and thus Handcross School came into being. The school opened in 1878, but somehow, despite it being 2018 as I write this, I fear there will be no celebrations for its 140th anniversary!
View Large Version
Open Document
Picture added on 08 May 2018 at 10:25