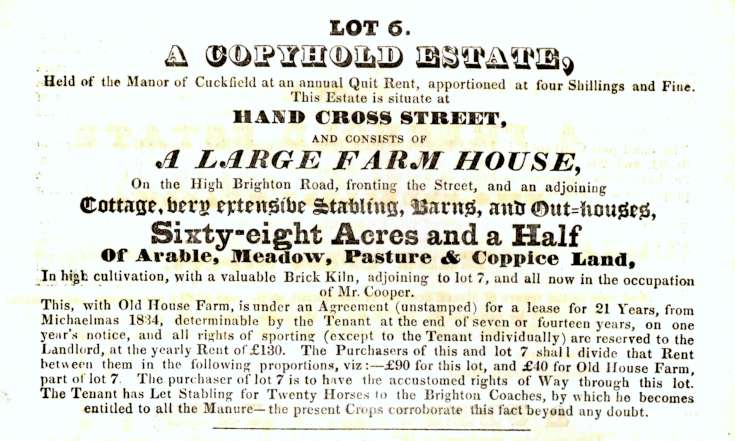 The Slaugham Archive
Auction 1936 (4 of 8) - Chodds and Old House
At the auction of land and property in 1836, Lot 6 (see above) offered for sale Chodds Farmhouse with 68½ acres of farming land.
The Large Version shows the complete page 5.
The bidding began at 2000 gns and was seemingly sold for 2300 gns (£2415).
I had yet to find any written evidence of a story that the Mr Batchelor who built Batchelor Buildings in the High Street, Handcross as accommodation for stable lads. These men would look after the horses used on the London to Brighton stagecoaches and were changed at Handcross. Furthermore, it was said that he used to keep the horses in a field opposite the cottages. The auctioneer's humorous remarks in the catalogue appear to confirm this story.
Lot 7 offered for sale Old House Farm together with some 207 acres of land used for a variety of purposes. Please note that details of Lot 7 continued on to page 6 and this can be viewed on
picture #2299
.
An extract of the 1842 Tithe Map can be found by selecting Open Document. Three farms are shown in a line. On the left is Old House, in the middle is Dillions, and on the right Allens Farm.
Very close to Old House should be the main Nymans' lake, as it is now known, but the map has it shown as a field called Jack Reeding's Field, named Jack Reeding field in the catalogue. A field (1501) is shown in the top left corner and has a meandering brook running through it. To the right is Furnace Green (1503) and to the right again is Furnace Shaw (1502). Shaw is old English for a copse.
The Wealden iron industry operated from the early 1500s to about 1800 and plot 1501 would have been a lake used to power the forge located at the southern end of the lake. I had assumed that the lake continued as a lake up to the present day, but now it seems possible that by 1836 the lake had silted up and that it was restored as a lake used for boating, fishing and leisure purposes in Victorian times. Certainly it is shown as a lake on a map of 1874.
The bidding started at 2000 gns and the winning bid was 2500 gns (£2625). I assume that Sir Edward Sugden purchased it as he was listed as the owner in the Tithe Map.
View Large Version
Open Document
Picture added on 08 May 2018 at 18:10
Comments: