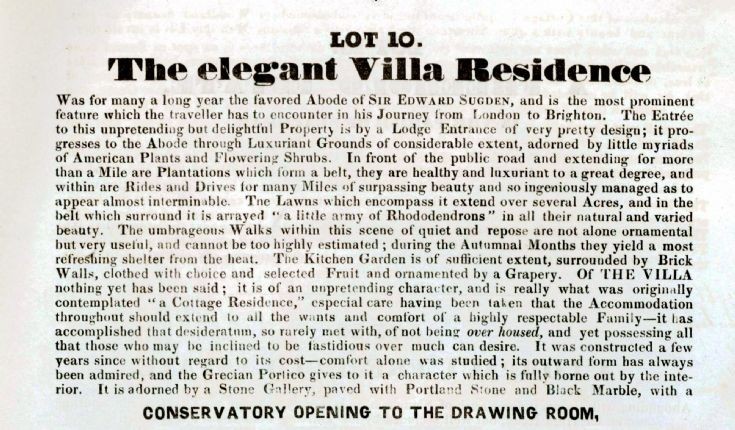 The Slaugham Archive
Auction 1836 (6 of 8) - Tilgate Forest Lodge
The auction sale of various properties and land took place on 26th July. 1836. The Large Version shows the whole of page 7 of the catalogue.
Lot 10 comprised Tilgate Forest Lodge, with various buildings including a bailiff's and coachman's cottage, two coach houses, and, most importantly, a brew house!
Select Open Document to view an extract from the 1842 Tithe Map showing Tilgate Forest Lodge on the east side of the main London to Brighton road just south of Pease Pottage. On the west side is Woodhurst house and farm, and at the top of the map are the cottages of Tilgate Forest Row.
The bidding started at 4000 gns and the winning bid was 6000 gns (£6300).
The catalogue states that Sir Edward Sugden lived at Tilgate Forest Lodge for many earlier years, and, indeed, the 1842 Tithe Map shows Sir Edward as the owner, but the occupier as Benjamin Cowie.
Both Lots 11 and 12 comprised farming land and woodland in the Pease Pottage locality, but as no buildings were included I have not succeeded in identifying the precise locations.
The winning bids were 1000 gns and 900 gns, respectively.
View Large Version
Open Document
Picture added on 12 May 2018 at 12:49