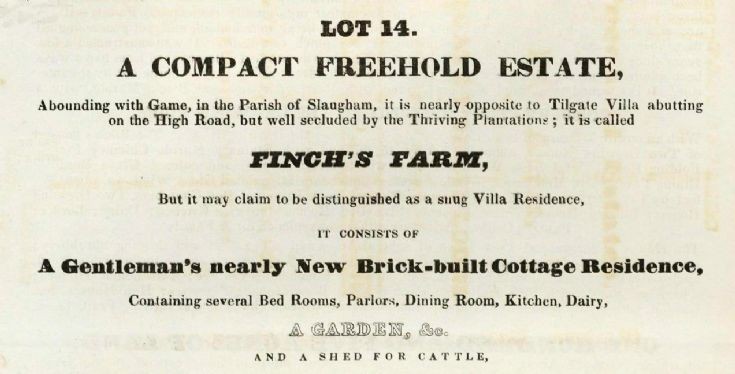 The Slaugham Archive
Auction 1836 (7 of 8) - Finches Farm
The auction sale of various properties and land took place on 26th July. 1836. The Large Version shows the whole of page 8 of the catalogue.
Lot 13 comprises a small strip of land of 1 acre. The plot runs alongside the London to Brighton road on the east side with its southern boundary being Parish Lane in Pease Pottage. In those days the start of Parish Lane was just 40 yards from the front door of the Black Swan. See
picture #2006
.
The bidding started and stopped at 100 gns (£105).
Lot 14 comprised Finches Farm with 50 acres of land. The "gentleman's" residence was located 350 yards south of The Black Swan, and the plot is now the location of the three Finches Cottages south of The Hemsleys.
The bidding started at 800 gns and the winning bid was 920 gns (£966).
Lot 15 comprised 40 acres of woodland to the south of Lot 14. I cannot be sure of the precise location but it seems to be adjacent to Woodhurst.
The bidding started at 500 gns and the winning bid was 940 gns (£987).
Select Open Document to view an extract from the 1842 Tithe Map of Slaugham parish. The blank area to the right is the adjacent parish of Worth.
The two parallel lines across the London to Brighton road represent the first few yards of Parish Lane. The narrow plot of land to the north of Parish Lane is that sold in Lot 13.
There were precious few buildings shown in Pease Pottage village, with the largest being The Black Swan. There were no houses on the south side of Horsham Road, but there were a couple of ponds!. Arguably there were more houses in the southern part of the village at Tilgate Forest Row. See
picture #2299
and click on Open Document.
Finches Farm is shown at the bottom of the map.
View Large Version
Open Document
Picture added on 13 May 2018 at 11:15