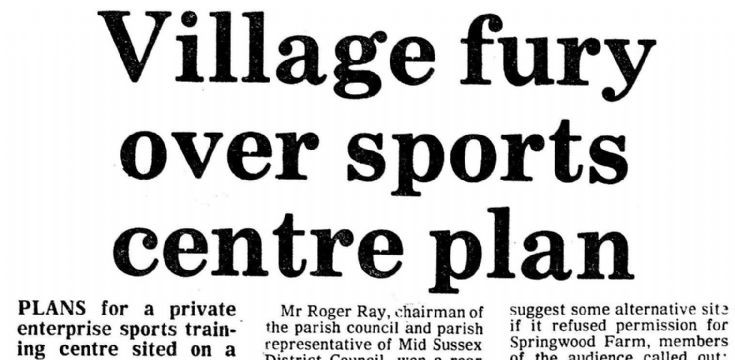 The Slaugham Archive
Sports centre application for Handcross
When villagers of Handcross decide that a cause is wholly justified they fight "tooth and nail" to get their way. Such a case was the battle to have the yellow lines in the High Street removed.
A private enterprise company was seeking planning permission to build a sporting complex at Springwood Farm in Balcombe Lane. This would provide training facilities for 40 to 50 athletic clubs comprising between 3000 and 4000 athletes within a 60 feet high aluminium-framed dome. There would also be a swimming pool, rifle range, squash courts, lecture rooms and restaurant.
The Large Version shows a letter appearing in a local newspaper from Mr Derick Gordon of Chodds farmhouse. He did not mince his words!
Select Open Document to view six newspaper cuttings. The first two feature Ben Sharkey from the newsagent's shop who was a prime mover in organising a public meeting in the Parish Hall. The remaining four cuttings report on the meeting which turned out to be a very lively affair. I would love to have a video of the "stamping of feet, cheering and loud applause" to add to the website!
Others mentioned in the report were Roger Ray who spoke against the scheme, and Mr Gordon Shirley, owner of Springfield Farm, who says he attended to find out what was proposed for his land!
In due course the outline planning application was withdrawn or refused and the scheme was abandoned.
I am grateful to Beverley Ansell (née Fraser) for supplying three of the cuttings.
View Large Version
Open Document
Picture added on 03 June 2018 at 11:25