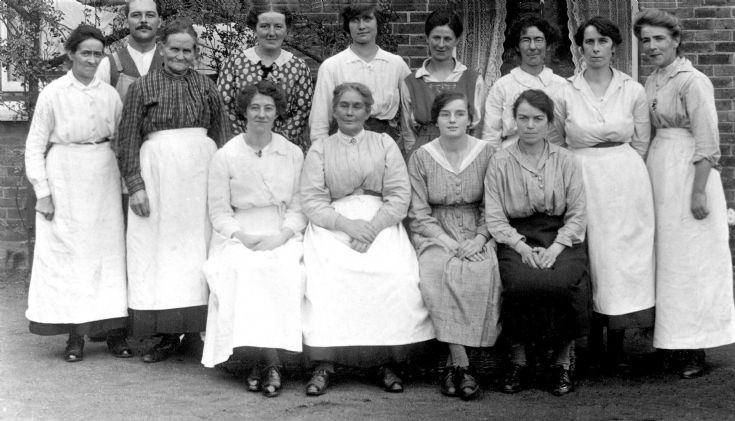 The Slaugham Archive
Country house staff, perhaps at Woodhurst
I have researched this photograph for some time but I still cannot identify where these ladies and one man were employed.
On the reverse there are handwritten notes as follows:
Back row: Mrs Beet, F. Hotten (prop), Mrs Brewer, Unknown, Mrs Johns, Mrs Stripp, Mrs Newman, Mrs Glover, Mrs Haylor.
Seated: Mrs Hotten, Mrs Rice, Mrs Miles, Mrs Sayers.
I can recognise Mrs Katherine Rice who, with his husband Thomas Rice, adopted my grandmother, May Longhurst. Mrs Rice was born in 1864 and I have estimated her age in the picture to be about 60, thereby arriving at an estimated year of 1925.
In 1911, the date of the latest census released, she was living in 3 Warren Cottages, Handcross but according to the 1933 electoral roll she had moved to Horsham Road in Pease Pottage where she lived until she died in 1952.
Perhaps the man was Francis Hotten (1896-1951) with his wife Elsie Hotten (1893-1972) in the front row. They were the parents of George Hotten who lived in Gilridge, Brighton Road, Handcross. The abbreviation "prop" could indicate that he was the proprietor, but in view of his young age and bib and brace overalls I suspect he was in charge of property maintenance!.
Perhaps the photograph was taken in Handcross, but I have assumed that the location was Pease Pottage. There is already a photograph of the domestic staff of Tilgate Forest Lodge on the website (see
picture #722
), so for the time being I have assumed that the location was Woodhurst. I can find no records of what happened between the end of the The Great War in 1918 (
picture #996
), and 1927 from when I believe the Mountain family occupied the house (
picture #1680
). Perhaps the casualties from WWI required care and nursing long after peace was declared.
Please can anyone supply more details of the photograph?
The Large Version shows a close up.
View Large Version
Picture added on 26 June 2018 at 20:33
This picture is in the following groups
People
Comments: